Audiences views differ about DC's 'Joker'
Second Place, Arts & Entertainment Writing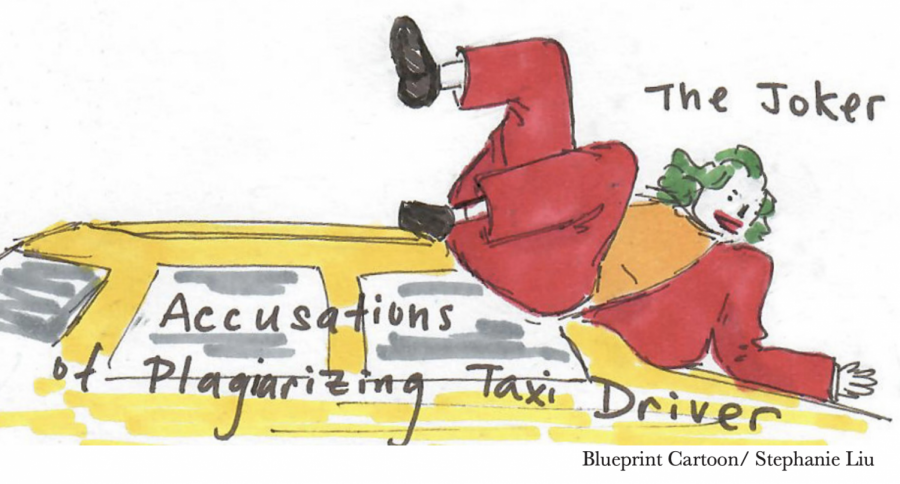 A shockwave of controversy shook audiences after Todd Phillips' "Joker" debuted earlier this month. Complaints derived anywhere from evident parallels to "Taxi Driver" (1976) to the outright violence portrayed throughout the film.
While "Joker" may yield a significant turning point for DC, the film provoked substantial debate in its wake. "Joker" takes a turn to the dark side in contrast to the traditional glittery landscape of DC and Marvel superhero films, drawing away from these movies' usual target: younger audiences. In this staggering style shift for the DC cinematic universe, director Todd Phillips unveils a story that intricately explores the dark side of the human mind, delivering a powerfully emotional insight into the disturbing life of a mentally challenged serial killer.
DC's "Joker" takes viewers behind the mask into the emotionally riveting origin story of the classic Batman villain. The flm features a profound investigation of a defeated outcast that society tossed aside because of his mental illness. Some sympathize, arguing that protagonist Arthur Fleck (Joker) is a product of child neglect, a victim of poverty, and instigator of a revolution for social equality; others will say he is a tramp, a psycho, and an apathetic murderer. DC had a firm presence in cinema before "Joker," but many believe that Marvel's cinematic successes have historically overshadowed the company's.
The shift in approach to traditional superhero movies has deemed to be a tremendous triumph for DC as they steer away from the flashy action films that audiences regard as traditional superhero cinema (as portrayed by Marvel). Some Acalanes students commended DC on the picture, as many were drawn to its sinister cinematic elements and aggressive nature.
Sophomore Isaac Vinokur, a seasoned cinephile and video production student at Acalanes, shared his opinion. "It's more violent than what [DC] usually does," Vinokur said. "Now they are taking a better route for more mature audiences."
While "Joker" was generally well-received by the public and students at Acalanes, controversy films of the '70s reflected the time that they were made in, reflected the kind of anger of corporations and the war, and society that we saw in the seventies."
Martin Scorsese's "Taxi Driver" is a prime example of the iconic seventies vibe in cinema. Some accuse "Joker" of blatantly plagiarizing the film. The two plotlines present almost direct parallels, and both films feature nearly identical characters: outcasts that increasingly become fed up with the corruption they witness and take it out on society.
Both films' protagonists also share an interest in stalking girls, shooting rich people, and pointing finger guns to their heads. What is especially interesting is Robert De Niro stars in "Taxi Driver" and assumes a large role in "Joker." Many speculate he had some influence.
However, while DC faces criticism for knocking of Scorsese, others defend the film. "I think filmmakers are always going to be inspired and draw from films," Briggs said. "'Taxi Driver' is from the '70s and ["Joker"] is a film that definitely draws a lot from it as inspiration. I wouldn't really fault it for that."
"Taxi Driver" and other mainstream films have historically maintained a similar nature to that of the Joker. Some believe people are more apt to the realistic and violent depictions in modern movies, but "Joker" struck audiences differently in regards to its vulgarity. Many viewers question if it should even be acceptable, considering the degree of violence the film depicts. emerged from an array of criticism, especially concerning the blatant violence that Vinokur attested to.
Some imagery was so extreme that viewers were overwhelmed by the outright violence and left theaters. Several scenes feature obscenely violent visuals. In one instance, Fleck repeatedly stabs his coworker to death with a pair of scissors.
In another, Fleck abruptly shoots the character he idolizes throughout the movie. Philips establishes an emotional attachment to these two characters throughout the film, making the scenes all the more intense to witness. Fleck is also frequently beaten to the ground as a consequence of his disabilities. This evokes compassion for the killer clown that is consistently characterized as a terrible person.
By deriving emotion from the audience, the film leaves viewers all the more conflicted when distinguishing the rights and wrongs of the story. Austin Briggs, the video production teacher at Acalanes, describes the conflict of mindset that the film instigates.
"It's definitely brought awareness to [the character] doing a really horrible act, but they think they're doing a good thing," Briggs said. "And I think that was something that made me feel uneasy when I left the film."
Briggs credits the violence as a product of the '70s aesthetic and nature of "Joker." "In the 1970s era of Hollywood filmmaking, everything was very loud, people were very aggressive in the films," said Briggs. "Very violent "I had mixed feelings in terms of a lot of the violence that [the film] in some ways either consciously or unconsciously portrayed the glamorization of violence and gun violence."
"I left with this uneasy feeling in a lot of ways because I know people will argue one way or the other that we shouldn't be showing this." he said.
Kids will inevitably watch and may derive influence from "Joker," prompting many parents to share the concern that Briggs voices regarding acceptable content. The target audience of this genre is important to keep in mind, as the fundamental nature of superhero movies is child-focused. A realistic film depicting their beloved supervillain as a mentally ill, gun-loving psychopath inspires a very different impression than the playful, fantasied bad guy that DC defines the villain as in nearly all of its previous content.
Gun violence is not only a concern of glamorization; shooting scares emerged across the country after several threats to shoot up "Joker" showings. Many theaters affected by threats were closed as a precaution. Some fans, fearing for their lives, avoided theaters entirely.
Concerns were especially prominent after the Aurora shooting in 2012, where a shooter clad in body armor killed twelve people and injured seventy during a showing of "The Dark Knight Rises," another grim Batman film featuring Joker as the antagonist. Sophomore Connor Kim chose not to see the "Joker" in theaters but expressed his relief that no threats were followed through.
"I heard that Joker theaters were gonna get shot up, and they didn't," Kim said. "So that's good." "Joker" tackled many sensitive and controversial topics. Issues like gun violence and mental issues that have become increasingly twisted in today's society and remain unsolved.
However, while the film upset audiences from multiple angles, it could go on to be a positive and revolutionary experiment for the future of cinema. It takes a willing and open mind to decipher the puzzles of this work, but within its perplexity, Phillips is trying to deliver a crucial message to society. Viewers' ignorance and hate regarding what the film portrays could be precisely the point Phillip's is trying to get across: awareness.
The film "Joker" in itself represents the outcast, the victim, and the instigator of a revolution for social equality. That is the irony in it all. "People should look at this film through a few different lenses," Briggs said. "As much as this is an entertaining film, we have to be aware of how the film is interpreted in society because films will always reflect the times they were made in."
This story was an honoree in the 2020 Lesher Awards competition.
Leave a Comment