Jumanji II reaches 'The Next Level'
Third Place, Arts & Entertainment Writing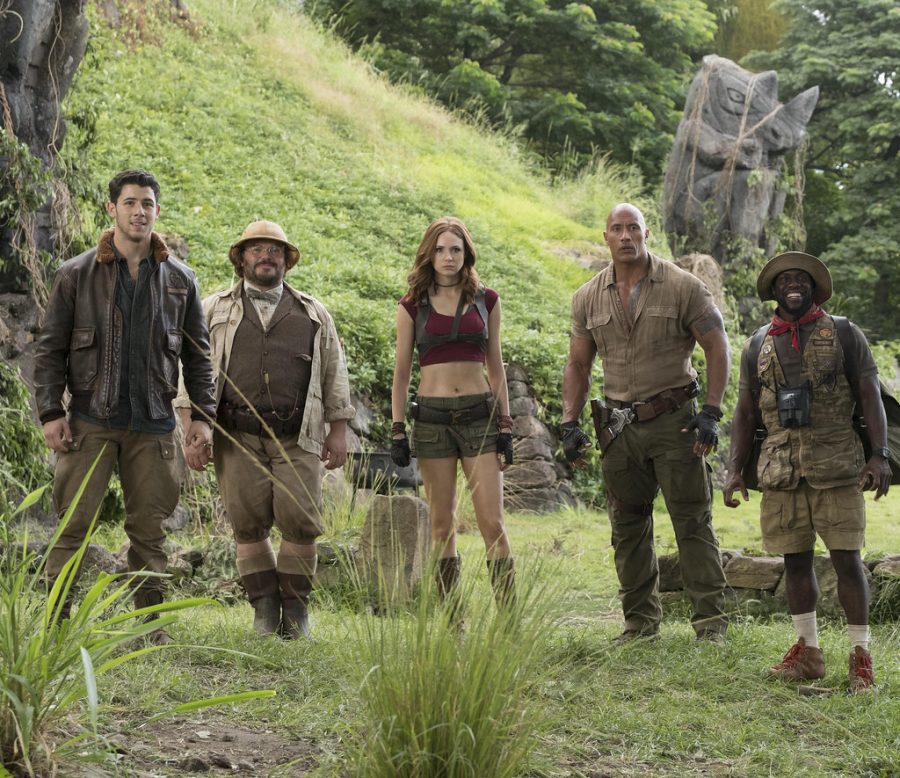 When Dwayne "The Rock" Johnson, Kevin Hart, Jack Black, Karen Gillan, and Nick Jonas starred in "Jumanji: Welcome to the Jungle," the world thought that there couldn't be a more dynamic group of actors. That is, until they threw Danny DeVito and Awkwafina into the mix.
"Jumanji: The Next Level" opened on Dec. 13, 2019, and has been labeled "the epic holiday family adventure" of the season — by the Rock. But lucky for him, the movie lives up to its name. With a more complex storyline, harder-hitting action scenes, and iconic off-camera interactions between The Rock and Kevin Hart, there is no questioning why "Jumanji" has surpassed "Frozen 2" in the box office on its opening weekend.
While holding onto all of its main characters, "Jumanji: The Next Level" has also dropped in some new ones. By doing so, they added a complexity to the storyline that the original movie — and by original, I mean the 2017 version — didn't have. This movie switched between the realities of normal life and of Jumanji after Eddie (Danny DeVito) and Milo (Danny Glover) took Bethany (Madison Iseman)'s place in the game.
"Jumanji" starts off by showing where the young adults are in their life: Bethany is out exploring, phone in hand; Fridge (Ser'Darius Blain) is in the gym feeding his masculinity; and Spencer (Alex Wolff) is seen stalking his former lover, Martha (Morgan Turner), on Instagram. While his friends were enjoying their lives, however, Spencer didn't feel as strong and powerful as he had when he first emerged from Jumanji (clearly because Alex Wolff weighs a meager 145 pounds in comparison to The Rock's staggering 264 pound, muscle-packed, fat-free body, but we'll pretend his insecurity is for some other reason), so he went back into the game. After his friends had jumped in after him (with the exception of Bethany), Jumanji took them to the next level.
From Devito's angry screeches in which he claimed that his recent back surgery didn't affect him to The Rock and Hart's priceless imitations of their older colleagues, "Jumanji" (the movie, not the game) is also able to take its audience to the next level.
But going beyond the basic storyline of "Jumanji," this addition to the series is also centered around the theme of friendship — and of old-timers not knowing how new technology works.  This makes the movie both a relatable comedy and a not-so-relatable action-packed film filled with angry herds of ostriches and aggressive monkeys.
If you loved "Jumanji: Welcome to the Jungle," you will most likely be just as amused by "The Next Level" as it retains many elements of the first movie. (Spoiler alert: The Rock's beautiful smolder doesn't go away.) And, without spoiling the ending, the conclusion of the film almost certainly means a "Jumanji III: Movie To-Be-Named Later." But, for now, let's just focus on one adventure at a time.
This story was an honoree in the 2020 Lesher Awards competition.
Leave a Comment
Your donation will support student journalists of Contra Costa County. Your contribution will allow us to enhance our website and raise funds for student scholarships and to support journalism teachers.