A celebration at Acalanes High of cultures from around the world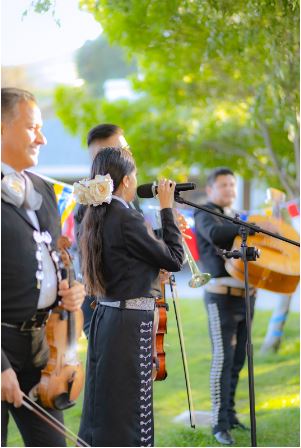 Music in the air, plates of foreign dishes, and colorful booths representing countries around the globe filled the front quad of Acalanes High School during this year's highly anticipated Cultural Fair. 
A collection of student-run booths in the Acalanes front quad made up Leadership's Cultural Fair on April 28, giving visitors an opportunity to interact with different cultures through music, food, and activities.
The Cultural Fair returned for the first time in two years following the outbreak of the COVID-19 pandemic. Leadership organizes the Fair, but students sign up to present each country and its culture.
"The booths have information about a particular country. [Students] put up a board, have samples of food, and sometimes have a trivia game related to the country. Often, [the booths also] have photo albums or examples of typical clothes from the countries," Acalanes Spanish teacher Elizabeth Gough said.
The Fair also had cultural activities that guests could take part in. Pétanque, a French game similar to bocce ball, was a popular attraction for visitors. A mariachi band kept the Fair lively by playing music for the duration of the event. 
"I thought [the Cultural Fair] was very interesting, I got to learn a lot about different cultures which I hadn't learned about before… I liked the Brazil booth because it had a lot of cultural foods like pão de queijo," Acalanes sophomore Nicholas Pires said. 
Visitors note that the event attracted a large crowd, which caused some overcrowding.
"I think it's just so amazing how all the cultures can be represented … They go above and beyond with the information they give," Acalanes sophomore Tucker Brewer said. "[However], I think it could be a bit smaller, there were too many people [at once]."
Students who took part in the celebration express the importance of learning about other cultures through the unique platform the Cultural Fair provides. 
"I [brought] some Semita de Pĩna which is pineapple pastry from El Salvador… because I'm El Salvadorian and I wanted to bring something," Acalanes junior Olivia Banks said. "[The Cultural Fair is about] exposing Acalanes to different cultures and the people in them, [all] the underappreciated cultures that we have in the school. [It gives us] a chance to celebrate things that are not talked about usually."
Although anyone was invited to attend the celebration, language teachers encouraged their students to interact with the Fair as part of their courses to further student interaction with the countries they study in class.
"We do a cultural project this semester so our students are encouraged to participate and get to know culture. We do this throughout our curriculum, but outside of our classrooms, we are encouraging students to get involved with culture and the language. One of the many options the students have is to participate in the Cultural Fair," Acalanes Spanish teacher Heidi Skvarna said.

Unfortunately, a few traditional activities did not take place because of a variety of factors, including a struggle with rescheduling and the students' busy academic schedules during the end of the second semester. 
"I think every student should have more knowledge about other cultures and other countries and also more understanding for other cultures … Originally [Leadership] asked me to have students do [the] Lion Dance, but we [were] not able to do this this year because we [had] trouble borrowing the equipment and everything …  All the students are very busy, especially in this time period" Acalanes Mandarin teacher Ma-Chen Tu said.
Regardless of the end-of-semester chaos, teachers believe that the Fair is a great way to teach students new things about a diverse array of cultures. 
"I think it is important to support student activities and I think it's important for students to be aware that they should celebrate each other's cultures and celebrate each other's similarities and differences," Skvarna said.