Meet Walnut Creek's soap man
In Walnut Creek, where North Main Street meets Mount Diablo Boulevard, sits the smallest store in the shopping area — no more than five square feet. But almost all passersby know this business and the man who runs it. Filled to the brim, an assortment of colorful soaps in a woven wood basket, sits perched on a man's lap. This is the life of Bill McGeehan — or as he is more commonly known, the soap man.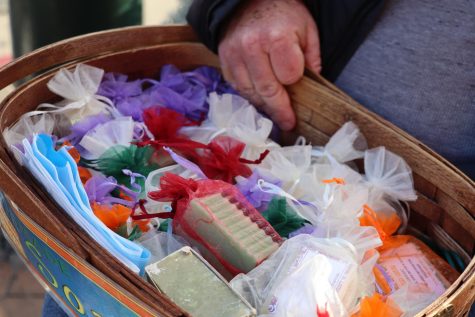 McGeehan's business, named by his cousin, is called Hope Soap, which he has been running for nearly 14 years. In 2008, he quit his steady jobs as an RV salesman and disability consultant to start his business. "I have a condition called cerebral palsy, and I also have a related low vision impairment. So my hope was to find a venture that would allow me to do good works for others, while also allowing me to generate sustenance and added income to support my special equipment needs," McGeehan said on his website, Hope Made Soap.
After a couple weeks, McGeehan returned to his old job. However, his loyal customers pushed him to start the soap business back up again. 
    "So many people around here liked it. People were calling me asking, so I just kept doing it. I don't want to let people down," McGeehan said. 
McGeehan doesn't have an actual storefront, but he doesn't mind — it allows him to keep his soaps more affordable. 
"I like to make people happy. I will continue as long as people truly like it," McGeehan said.
Almost every day, McGeehan sits on the Walnut Creek corner in his wheelchair selling his soaps, rain or shine. He arrives early in the morning and leaves in the late afternoon.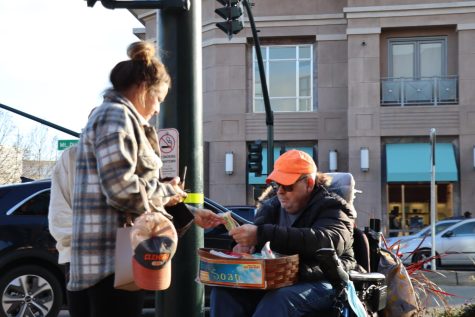 "As long as I've been going to Walnut Creek, I've seen him. He is always super friendly and he's honestly the highlight of my day. I hope he continues doing what he does because just a simple wave or smile can really make someone's day," Miramonte junior Stella Symonds said. 
While he is the face of the business and is in charge of sales and other business relations, McGeehan has many friends and family members who help out behind the scenes making and assembling the batches of soap. "I have some retired and senior relatives who work on it. They like to do it for fun," McGeehan said. 
Every soap is handmade and created with goat's milk, along with other natural oils such as coconut, sunflower, soybean, and palm. McGeehan offers a variety of scents, including lavender, citrus, and even peppermint. 
"I've bought soap from Bill a couple of times. I've given them as gifts to my friends but I always keep one for myself! My favorite scent of his is probably grapefruit, but he has so many options it's hard to choose," Miramonte freshman Brooke Parker said. 
Within the past decade in Walnut Creek, stores have closed, while new ones have opened, and buildings were torn down, while others were remodeled. The lively city has been and forever will be changing. Well, almost all of it. McGeehan's message of spreading hope through soap can never truly leave Walnut Creek. 
***
You can visit Hope Soap on 1119 S Main St. in Walnut Creek or check out his website: www.hopemadesoap.com 
Instagram: https://www.instagram.com/hopemadesoap/ (@hopemadesoap)