Miramonte's Tyler Dutto a dual-threat athlete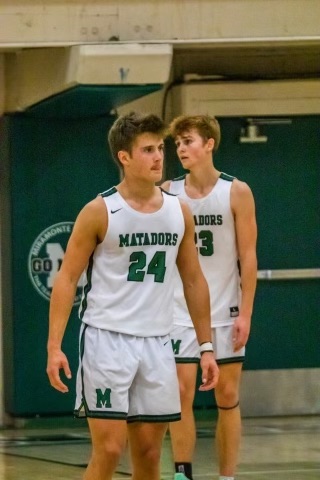 "Third down for the Matadors with only 4 seconds left to go, they are down three in the RedZone. The snap!! Duncan drops back with the last play of the game. He sees Brudzinski in the end zone; that pass is tipped and caught by Dutto! Touchdown Miramonte, the Mats win, the Mats win 28-25 in overtime."
Orinda's parents are tough on their kids. Growing up in Orinda, young kids have the opportunity to try out many sports due to the amount of well-funded associations in the area. The young athletes have access to The Orinda Baseball Association as well as the Moraga, Orinda, and Lafayette Football league, and the local "swim clubs" that have competitive swim and tennis teams (at one point they were some largest youth sports programs in all of the United States).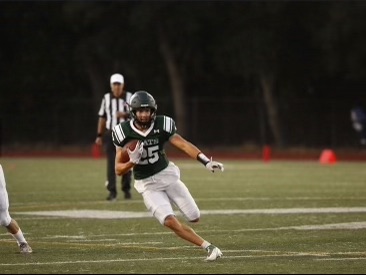 Miramonte High wide receiver and point guard Tyler Dutto was once one of these kids. He grew up playing every sport he could: baseball, basketball, football, soccer and competitive swimming. He was so good at every single one of them, people knew him as "the athletic kid."
"Tyler was on my Pinto baseball team," said lifelong friend Will Hensley, a Miramonte senior. "I remember him being so good that other teams would be intimidated to play against him. He was also the only first grader to make the all-star team. The rest of the kids were second and third graders." 
Establishing himself as one of the best athletes in the Lamorinda area, Dutto has already received one offer to play football at the University of San Diego. At the wide receiver and safety position, Dutto had 15 tackles and 1,200 yards receiving, which was a thousand more yards than his junior year. Finishing the season with a Miramonte record of 15 touchdowns, Dutto made himself a name for the Mats. The outstanding season came to an end with a final road trip up to Del Norte for the second round of the playoffs.
"My favorite part was spending time with my teammates – our team was really tight with one another. The Tahoe and Del Norte trips really helped our team come together," Dutto said.
Not only does Duto tear it up on the field, but you might also see him run an offense on the basketball court. The starting point guard averaged 11 points, six assists, and four rebounds per game. In basketball, the point guard is someone who needs trust. Dutto is the one player you can always count on to give the Mats the opportunity to win. Dutto has received a total of 11 Player of the Game awards in his high school basketball career. 
Another aspect that Dutto takes pride in, is his leadership qualities.    
"Being a captain means a lot to me," Dutto said. "I love to take control of the game and help my team win through hard work and execution."