To mask or not to mask, that is the question on campus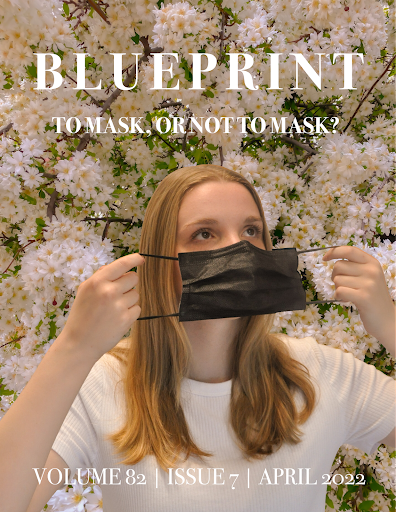 March 12, 2020, seemed like every other ordinary Thursday at Acalanes High. The bell rang to mark the start of the school day at 8 a.m., prompting students to mill around the halls with smiling faces, taking in the rolling green hills and the soft sunshine of the season. When the lunch bell rang at 12:55 p.m., students huddled in groups, eating, laughing, and basking in the outdoors and the coming of spring. Upon hearing the dismissal bell, they crowded to the door's exit, ready to enjoy a long weekend that unknowingly led to a deep, dark winter of crisis, infection, and fundamental change.
   As Monday March 14, 2022, came and went, many Acalanes students noticed that it was almost exactly two years since that fateful day so long ago. The bell rang to mark the start of the school day, prompting a sea of both masked and bare faces to intermingle at school. As the sun peeked through the clouds of pandemic catastrophe, it illuminated crowds of hopeful faces and widened eyes for the first time since the dawn of the COVID-19 pandemic.
   Upon Gov. Gavin Newsom's statewide announcement, California schools are free to make masks optional as of March 11 at 11:59 p.m., almost two years since the Acalanes Union High School District first went into distance learning. While this opens up the matter of masking to personal preferences, Acalanes staff and students alike face an array of implications as the modern world approaches the endemic phase of a global pandemic.
   The number of hospitalized patients in Contra Costa County has fluctuated throughout the pandemic, going from 296 on Jan. 29 2021 to 306 on Jan. 9 2022 at the peak of the highly virulent Omicron variant. It has greatly decreased since then, with 34 patients hospitalized due to COVID-19 in Contra Costa County as of March 22 2022. Even after the state lifted mask mandates for public schools, individual counties could choose whether or not to follow the decision.
   "Typically counties cannot be less restrictive than the state, but they could be more restrictive than the state. In [Contra Costa County], the science around COVID-19, the number of cases, and the number of hospitalizations have been determined by [Contra Costa] Public Health to be at such a level to warrant a change in the mask mandate from what it was for K-12 education statewide. So the change that the state made was to make masks in K-12 education strongly encouraged, but not required," Acalanes Principal Eric Shawn said.
   The Acalanes district worked to follow guidance from Contra Costa Public Health as well as state health officers throughout the pandemic to make precise decisions surrounding COVID-19 policies.
   "We have been following the expertise in the science of the trained epidemiologists and virologists and people who are in the field, not just moving on the politics of 'we are tired of this' and 'freedom of choice'," Superintendent John Nickerson said. 
   Although some school districts across California lifted mask mandates in February, the district  waited until Gov. Newsom approved a state-wide lift to ensure safety and insurance coverage. 
      The district felt confident in its choice due to the dropping case rates, its resources, and its alignment with state officials. 
   "Tracking the data and the very rapid fall from the Omicron winter surge, we felt California was being cautious and following the science. [We] felt that with the conditions in this district, ranging from high vaccination rates, excellent ventilation systems, strong infrastructure in place to contact trace and things like that, and the low incidents of COVID-19, we felt it was the right thing to do," Nickerson said.
   The district had allowed select student groups to go maskless before March 12, such as certain athletes and musicians. Most recently actors in the Acalanes Performing Arts' production of Beauty and the Beast could also take off their masks during performances.
   "So we were so lucky and had the permission from John Nickerson, our superintendent, and the president of our school board, with the blessing from our county health officer that we've been working with closely over the last couple of months to allow the students to perform without masks. So as soon as they came off stage, they were masked the whole time when they were in the dressing rooms and in transition but then on stage, if they were comfortable, they were allowed to take their masks off," Acalanes instrumental director and choir teacher Lauren Gibson said.
   The gradual lifting of mask mandates follows medical professionals' advice and research. Some researchers have found that surgical masks provide limited protection against COVID-19 transmission while cloth masks provide no protection.
   "I think the risks [with lifting mask mandates] are negligible, meaning so small that they are not quantifiable, and that is because … our data on masks actually decreasing the transmission of COVID-19 in the school setting is very weak," University of California, San Francisco Director of COVID-19 Response Dr. Jeanne Noble said. "We may see cases go up again with new variants, but I would not anticipate that they will have anything to do with whether students mask or do not mask."
   Noble emphasizes that there is not much else community members can do other than to vaccinate and get tested.
   "If you are somebody who doesn't have a real immuno-compromising condition [and] you are sort of average health status, after vaccination, there's really nothing more you need to do, and we can all help the small number of really vulnerable people in our communities." Dr. Noble said. 
   Despite the reliance on vaccination, other doctors warn that going maskless and easing mandates could lead to a resurgence in COVID-19 to a new variant.
   "Lifting mask mandates basically will incur a resurgence in COVID-19 infections among people who are vaccinated and not vaccinated, so whenever there is an increased amount of coinfections, there is an increased amount of variants which could lead to resistance," Medical Director of Hope Healthcare Dr. Brent Williams said. "Kids usually are in close proximity, and the problem with children is they don't physically distance well, so they typically can spread it easier."
   Due to the likely threat of increased COVID-19 infections, student responses to the mask mandate lift were ones of surprise after finally growing accustomed to wearing a mask at school.
   "I was surprised to hear that the mandate was going to be lifted. I gave up trying to predict what was going to happen COVID-19-wise a while ago, but I always thought that the mask mandate in schools was going to stay until the end of the school year, at least,"Acalanes  junior Emily Berkowitz said. 
   After the initial surprise wore off, many students found themselves with the difficult decision of whether to remove their masks or not. For many Acalanes students, factors like comfort and future plans played a large role in deciding. 
   "I'm choosing to wear my mask at the moment to ease myself into the idea of not wearing one. I am also traveling soon so that is another reason why I'm choosing to keep it on when in big groups. I know I'll probably end up not wearing it soon, but at the moment, I'm choosing to keep it on," Acalanes sophomore Gabe Gardner said. 
   Other students decided to remove their masks because they felt that the presence of COVID-19 was simply inevitable, and they did not want it to dictate their lives. 
   "I feel just as safe because I personally haven't had COVID-19 yet and I've accepted the fact a long time ago that I'm probably going to get COVID-19 at some point. It's going to happen to everyone, right? So I may as well get it over with now rather than if I'm on vacation, or I'm going to see my grandparents," Acalanes freshman Grace Gallacher said. 
  Many students and teachers preferred to unmask because they felt that their vaccinations and booster shots were enough to ensure their safety.
   "I'm double vaccinated and boosted. I feel that I'm [in] pretty good health… I think if you want to be cautious, wear a mask. If you feel that you're safe enough and that you're healthy enough, then you don't need to wear a mask. It's all up to the sole person wearing a mask," Acalanes Digital Design 1 and 2 teacher Chris Busse said.
   Students being unmasked also allows teachers to better understand students' comprehension of class material through their facial expressions, something that many haven't been able to gauge during the past two years.
   "I really like being able to see students' reactions. I've gotten better at reading their eyes and their body language, but I didn't realize how seeing their facial expressions can help in your guidance of, are they getting it? Is it working? Are they happy? Are they sad? What do they need?" Acalanes math teacher Julee Henderson said. "Also, I love to have fun, so I miss seeing those smiles. You can kind of see it in someone's eyes, but I miss the laughter and how we can see that on people's faces."
   The ability to read facial expressions and social cues has also benefited many students who struggled with social interaction due to masks. 
   "As someone who's kind of shy sometimes, masks have felt like a very limiting factor to me, because I can't really tell if people are enjoying a conversation or not," Gallacher said. 
   Showcasing facial expressions is even more invaluable in performing arts courses, as emotions are an integral part of the class and in their curriculum.
   "And then in choral, this is the first time we've been able to sing without masks and to hear their resonance, to hear their confidence, and to see them and their expression, similar to the musical, without masks is great. And also from a pedagogical standpoint helps us because when I can see what they're doing with their mouth and their structure and how they're singing, it helps me fix little things here so much easier than when the masks were on." Gibson said.
   Other programs at Acalanes, such as Yearbook, feel that the decreased number of masks on campus allow them to capture student emotion and events far better.
   "Seeing people smile is one of my favorite things. As a [Yearbook] photographer, capturing the peak of emotion is super important and really adds to a photo's quality. Without masks, it is easier to capture emotion within a picture," Berkowitz said. 
   Going unmasked has also helped special education classes, as students can now better understand mouth movements and communicate with teachers.
    "I think there's some benefit of not having to wear [a mask] because [special education students] can see my mouth better. It doesn't sound as muffled, and if I want them to see how my mouth moves to say a certain word, they can see it. There's a visual for it," Acalanes Special Education teacher Marissa Allen said. "Language can be a barrier for students with special needs, and facial expression is one way of expressing oneself, and so I feel like there's some benefit in being able to see my face."
   Not having to enforce the mask mandate indoors has also alleviated stress that some teachers feel.
   "In regards to the students with special needs, mask wearing can be hard for them, especially if they're students that may not understand the social rules related to COVID-19 requirements. So there isn't that urgency to feel like they need to wear it for health and safety [reasons], and so having it be more open has alleviated some of that stressor," Allen said.
   Occasionally, teachers also find masks to be uncomfortable when trying to teach or project their voices.
   "It's very exhausting to talk the entire day when you're trying to teach and you have a mask that you keep sucking in with your mouth and getting yourself incredibly sweaty. So I think honestly, just for my mental wellbeing, it'll just be a nice refresher that I can actually see students' faces and I can talk without feeling constricted," Busse said.
   Frosh and sophomore students especially revel in the lifting of the mask mandate as it is their first taste of a typical, pre-pandemic high school experience.
   "The positives that come with the new mandate is that many people will begin to get their 'regular' high school experience where they can see everyone's faces and not be wearing a mask. Another positive is that I can tell that morale is building up because this was an exciting and new change," Gardner said.
   For many Acalanes community members, going mask-optional is a step toward normalcy.
   "It has been a long haul, and while there are going to be risks involved, people who are not comfortable or have maybe parents or grandparents or people close to them who are immunocompromised [can] continue with masks, and those who are ready to take the next step can choose differently," Acalanes English teacher Ken Derr said.
   As students and staff face their personal decisions on the matter, the school emphasizes inclusivity and tolerance to respect individual circumstances.
   "We remain a mask-friendly environment and believe that every individual … should do whatever makes them feel comfortable and that we as a community need to support every individual feeling comfortable on this campus," Shawn said.
   While the current COVID-19 situation allows individuals to take off their masks freely, administrators warn that the ever-changing nature of the virus may necessitate masks in the future. As always, the district bases its approach on scientific opinions and research.
   " It will be interesting to see what the recommendations as well as the requirements of the state health officials, as well as our local health officials, [will be in the future]. I don't think COVID-19 is going to go away, and I think depending on the next variant, if there is a next variant, I think it would not be surprising to see masking happening on our campuses during certain times of the year, namely the winter, so [it's] really too early to know," Superintendent Nickerson said.
   As the virus continues to evolve and residents receive their regular immunizations, health experts observe the coming of an endemic phase, where people contract the disease as a common infection, such as the flu.
   "So there will still be people getting infections, but that's how we adapt, just like the flu or chickenpox," Dr. Williams said. "Vaccines are all we have. There will still be cases of COVID-19 after the vaccine [and] after we lift the mask [mandate] and that's just what happens now. So we're going to continue to have viral infections after that, and there will still be other people who will be hospitalized. There will still be other people who will die from it similar to the flu or other viral things we've dealt with in the past." 
   While viruses may lead to death in worst-case scenarios, health officials affirm that COVID-19 treatments and vaccinations have decreased its fatality rate to a lower level than at the start of the pandemic.
   "Unlike in March 2020, we now have high levels of immunity from the vaccines and prior infection. There are also life-saving treatments such as Paxlovid for people who get infected with COVID-19. And, for now, case and hospitalization rates are low," Contra Costa Health Services spokesman Will Harper said.
  Experts highlight that an important step towards pandemic recovery includes addressing mental health impacts from two years of isolation and loosening fears.
   "Mental health implications during [the pandemic] were really pretty harsh … especially among adolescents, so I think letting go of COVID-19 fear and letting go of changes in your behavior because of COVID-19 is actually the healthiest thing that you can do," Dr. Noble said.
   As the district observes endemic trends, schools look to future steps to treat it as such while continuing to protect its community from unnecessary dangers through vaccine mandates.
   "I think that what we're going to see statewide is the continued discussion around whether there can be a vaccine mandate for K-12 education in the same way that there are other public health mandates in K-12 education," Shawn said. "And so if the state does adopt a K-12 mandate, then I could see, after some legal challenges and whether or not it becomes law, that then of course, we would implement what those mandates look like for students. We will continue to have a vaccine mandate for employees – that's been written into the board policy at this point – so I would imagine that that would continue to go forward."
Leave a Comment