Acalanes activists walk out in solidarity with LGBTQ+ youth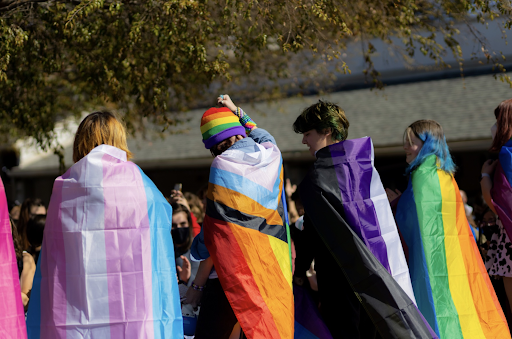 "We will fight to make ourselves heard. And we will not stop fighting until every student, regardless of their gender and sexuality, are free to be themselves," student activist and Acalanes sophomore Fae Goertzen proclaimed passionately in front of a crowd of over 200 students. 
   In response to the passing of anti-LGBTQ+ legislation across the country, LGBTQ+ student activists at Acalanes staged a school-wide walkout on March 11.
   In the past year, the United States saw an increase in laws limiting LGBTQ+ rights, which sparked concerns among advocates. Several states proposed bills that prohibit instruction about sexual orientation and gender identity for public school students in primary grade levels. A specific measure that sparked protest is Florida House Bill 1557, commonly referred to as the 'Don't Say Gay' bill, which was recently signed into law.
   Psychologists and human rights advocates began raising concerns about the effects these laws could have on young members of the queer community. According to The Trevor Project, a non-profit organization focusing on suicide prevention for LGBTQ+ adolescents, 52 percent of transgender and non-binary youth have considered suicide, and 20 percent have attempted it.
   "More than half of transgender and gender non-conforming youth think about killing themselves, really think about it, and that includes very small children who get messages that there is something wrong with them. I think this ['Don't Say Gay' bill] could exacerbate that statistic, which is very upsetting," said Rae Messer, associated clinician at the Rainbow Community Center in Concord.
   Despite progress over the last 20 years, historians note that recent legislation may undo some advancements made by LGBTQ+ activists across the U.S..
   "It's horrible, truly reactionary. Taking a longer historical view, I see steady incremental progress for transgender rights for the most privileged, white, able-bodied, educated … transgender people in the U.S. from the 1990s through about 2014/15," said Professor Emerita of Gender and Women's Studies at University of Arizona and Presidential Fellow and Visiting Professor of Gender, Women's, and Sexuality Studies at Yale University Susan Stryker. "But for the last six to eight years, in spite of some landmark gains on employment protections, the pendulum has been swinging the other direction … I do not want to sound alarmist, but I think we are heading into some truly dark times." 
   The rise of U.S. legislation that limits LGBTQ+ rights led student advocates to plan nationwide walkouts. As word of these protests spread across social media, several Acalanes students took notice. 
   "There was a post that had been circulating [about a nationwide walkout] and I noticed a lot of [QSA] members liked it, so I reached out," Acalanes Queer Student Alliance (QSA) Co-President and senior Autumn Long said. "The walkout is . . . to show support for transgender people and to show that they stand against the transphobia and homophobia in the bills that are being passed."
   Organizers first met on Feb. 28 to plan the walkout at Acalanes. The organizers notified the school administration about the peaceful protest on March 8, but staff was not involved in the planning process. After informing the administration of their plans for the walkout, which included leaving five minutes before the end of fourth period, student activists spread the word to the student body.
   "I printed a ton of flyers and we posted it [on social media] and sent it to everybody we knew. I air-dropped it to random people in my class. We got people to get the word out," student activist and Acalanes sophomore Malia Eads said.
   The day prior to the walkout, Acalanes Principal Eric Shawn addressed students and parents in a school-wide email.
   "I want to clarify that this was not a school-sponsored event as walking out is not something we, as a school, can plan or promote. However, we affirm the constitutional right of free speech as long as it does not interfere with maintaining a safe learning environment," Principal Shawn wrote in the email. "There are logical consequences for walking out, including receiving a cut for the time they are gone and a detention to reflect on what they learned by participating in this form of protest. We intend to use this as an educational opportunity."
   Confusion around the consequences for walking out emerged following Shawn's email. However, Principal Shawn clarified that the administration could give students detention for a planned disruption of class.
   According to the Acalanes Student Handbook (2021-2022), the 'Disciplinary' Chart states that students who fail to meet 'Expected Student Behavior' face a series of possible consequences: student conferences, parent contact, detention, and class suspension.
   Ultimately, many individuals determined that the cause was worth the possible consequences.
   "With a protest, there is always a risk you are going to take. In this case, the risk was detention and I thought the risk did not outweigh [the fact] that I wanted to show my support," Acalanes sophomore Kabir Batra said.
   Other students felt deterred by the threat of disciplinary action for taking part in the walkout. 
   "[The consequence of detention] had literally 100 percent of the effect for me. I would have … gone if I did not see the emails," Acalanes sophomore Monty Gumabay said. "I ended up coming to the conclusion that I was going to go during the passing period."   
   Some students' plans on joining the protest solidified with the announcement of possible repercussions. 
   "After I received admin[istration]'s email last night, I, among many other students, were more emboldened to attend despite potential repercussions," Acalanes senior Brooke Blacklidge said.
   However, students did not receive detention for walking out. Instead, Principal Shawn hosted an open dialogue about the walkout on March 14. during academy in English teacher and QSA Advisor Erik Honda's classroom, to establish the school's commitment to fostering inclusivity.
   "I want it to be known to students that Principal Shawn, as well as the rest of the staff, are against the anti-LGBTQ bills, however, they legally could not condone a walkout at school," Goertzen said.
   Regardless of the possible consequences, students attended the walkout in solidarity with those affected in other states.
   "[I attended the walkout] to stand up for my rights. Being part of the LGBTQ+ community, it was hard to hear about everything going on in Idaho and Florida. It was great to hear people standing up for what they believe in," Acalanes sophomore Hadley Patrick said.
   The strong feelings surrounding the protest resulted in a large turnout and an enthusiastic crowd. 
   "I really feel that the walkout went incredibly well. I could never have imagined the turnout and support that we received. In all, we had roughly 300 students show up. The walkout mostly happened during [the] passing period and our speech was relatively short, but I personally believe that it resonated with a lot of people," student activist and Acalanes frosh Ash Lee said.
   While empowering students who attended, the walkout also educated those who were unsure of its purpose.
   "I did not see the point of [the walkout]. I do now, considering how many people went and its influence on those people," Acalanes sophomore Sean Shvo said. 
   Activists believe that creating open spaces for young students to learn about LGBTQ+ topics will alleviate the stigma and stereotypes surrounding those in the community. 
   "Whether or not people want to think about it, sexual orientation and gender identity are things we all have. In order to destigmatize these topics and to make everyone feel safe and accepted, we have to talk about these things from a young age. If not, we are creating a culture of ignorance and toxicity," Acalanes junior Amelia Morgan said. 
   Some students believe that a number of the bills being passed could create a feeling of alienation throughout the journey of coming to terms with one's sexuality or gender. 
   "I find [LGBTQ+ education] important as it can really help someone feel less alone in their journey, as many times it can feel isolating and scary. Taking away these students' rights to talk and learn about the community is taking away a good opportunity for many of them to grow and better understand themselves," Acalanes senior Kiera Burrows said. 
   The walkout allowed people to express their disapproval of the restriction of education.
   "As a queer student myself, and someone very involved in politics, the removal or banning of discussion regarding gender and sexuality for young kids in any state is simply absurd. While I do not believe these topics may be required to be discussed, I feel that banning any potential education regarding gender or sexuality leads education down the wrong direction," Blacklidge said. 
   Some activists feel that education about sexual orientation and gender identity is necessary starting at an an early age, as a straight and cisgender lifestyle is often portrayed in the media that young people consume. 
   "I would argue that kids are always getting an education on gender identity and sexual orientation whether or not it is explicit … I would make the argument that it is important for kids to be exposed to age-appropriate, diverse stories and [different] examples of what families look like … We want all kids to be able to learn and see themselves reflected in their education," Messer said. 
   Although the laws being proposed and passed across the country do not have any direct effect on the California legislation, Acalanes students felt the importance of standing with the nationwide LGBTQ+ community.  
   "The LGBTQ+ community is a community after all, so I thought it was important that other queer students in the United States knew that there were people there to stand up for them," Acalanes frosh Sparrow S. said.
   Students' passion for the queer community's struggles helped create a sense of unity for those participating in the walkout.
   "I think that the most exhilarating thing about participating in a protest is how powerful you feel when you are there, part of something bigger than yourself. It really sticks with you for a long time," Lee said.