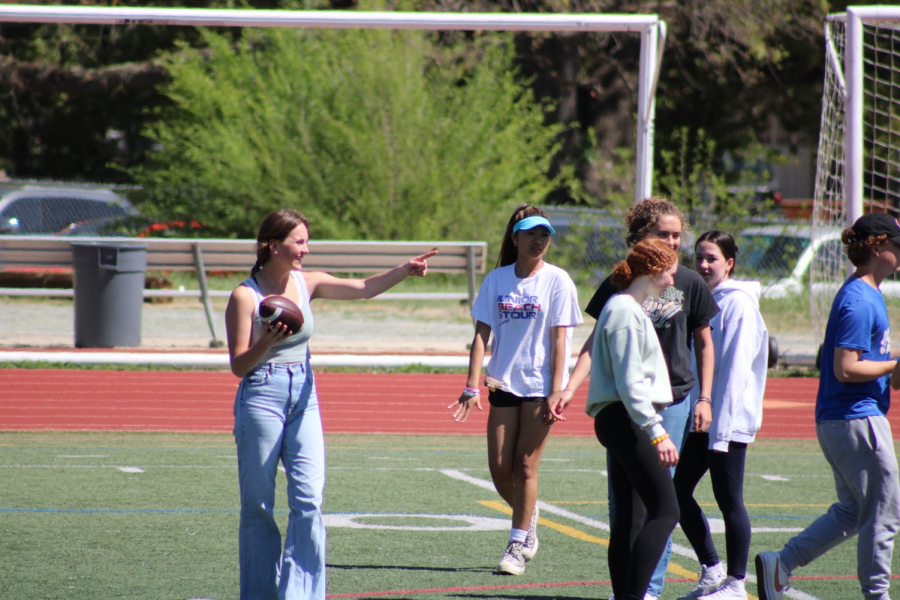 Mara Korzeniowska, Acalanes High School
Hut! Hut! Hike! Acalanes welcomes return of Powderpuff football
March 31, 2022
  Shoes pound against the field as specks of turf fly into the faces of players behind them. With full bleachers cheering them on, players skid across the ground, diving for their opponents' flags. As the referee's whistle blows, the players get up and run back to their side of the field, preparing for the next play. 
    After a long, two-year wait, the Acalanes Powderpuff football season is back.
   Throughout March, student-coaches and players prepared for the three-day Powderpuff football tournament that will take place on the Acalanes football field from March 28 to 30. The event seeks to build community across grade levels, between players, and among viewers.
   The Acalanes Student Body Leadership Board is responsible for organizing the event. 
   "Powderpuff is a lunchtime flag football tournament, where typically our female students participate and male students coach," Leadership  President and Acalanes senior Franny Daughters said.
   In spring 2018, Acalanes Leadership teacher Katherine Walton brought Powderpuff football back to the school with slight modifications. Although previous Powderpuff seasons promoted a gender-bent and stereotypically feminine version of football, Acalanes powderpuff expands its horizons to be inclusive of all students.
   "Although Powderpuff is traditionally played by girls, we want to make it clear that our version of Powderpuff is open to everyone and is simply a game of intramural football … We want to make sure all students on campus feel invited to play regardless of gender identity," Leadership Vice President and Acalanes senior Emily Starn said.
   With all of these new changes, the Leadership Board aims for the event to inspire a sense of empowerment from stereotypical gender norms.
   "In our opinion, Powderpuff should be a fun-spirited event that gives students in each grade an opportunity to connect with each other and engage in friendly competition," Starn said. "We have chosen not to include male cheerleaders for a couple of reasons, one being because it further enforces gender stereotypes in an unnecessary way."
   In spring 2020, just two years after the return of Powderpuff, Walton had to cancel the event due to the emergence of the COVID-19 pandemic.
   "We have not done it in two years because of COVID-19 and the pandemic," Walton said. "We have run it just two years because it was not held in 2020. We did it in 2018 and 2019 and both years I think were really positive for our campus and culture."
   Since Walton brought it back in 2018, the teams have been randomly selected among all grade levels, though each player can request one other player they would like on their team.
   "You could request who you wanted to play with, but [the teams are] pretty random, which I am in full support of because I think that way you can meet new people, and it is not just friend groups, and it does not feel exclusive," Acalanes Class of 2020 alumnus and former 2020 Leadership President Maddie Wilson said.
   Students enjoy participating in this school-spirited activity and gain a lot from their time on the teams.
   "It's a great bonding experience. It gives people something fun to watch and something fun to play," Wilson said. 
   Currently, coaches for Powderpuff are volunteers from the Acalanes JV and varsity football teams.  
   "[When I played, the coaches] all volunteered. They were really awesome. I think they were just happy to be involved. And they teach you how to play, teach you some routes, and they get really into it, which makes it really fun," Wilson said. 
   Coaches this year are looking forward to coaching just as much as in previous years. Since many of the student-coaches played for the Acalanes football team, they share their love for football with their players.
   "I wanted to coach Powderpuff because [of] my love for football, … making more connections, meeting new people, and having fun while playing the game of football basically is what I am excited for," Powderpuff coach and Acalanes senior Evan Malmquist said.
   Other coaches, beyond sharing their love for the game, decided to coach because they want to teach their players about football and foster a strong team spirit.
   "I play football, so coaching it would be really fun. I think I can show the girls camaraderie, team playing, and just an overall spirit of having a good time playing football, something I love," Powderpuff coach and Acalanes senior Michael Kuhner said.
  In addition to building a strong sense of community between players and coaches, Powderpuff serves as an interactive event with viewers.
   "The stands get filled. That is part of it, you do not necessarily have to play, but you can come out and root teams on and be a part of it that way," Walton said. "People will sit in the football stands and watch some positive Acalanes relationship building, in addition to friendly football competition."
      "I have been really excited for Powderpuff for a while. We really wanted to compete and always thought football sounded super fun. I was really excited when I found out about it this year and am super excited to be on a team with my friends," sophomore Jasmine Frost said.