Junior captain leads Acalanes girls' soccer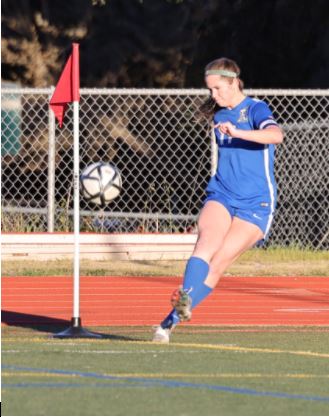 Acalanes junior Tatum Zuber continues to thrive in her second season as a captain of the girls' soccer team (20-1 overall, 11-1 league). She has played a vital role in the team's success this season, achieving first place in the Diablo Valley Athletic League.
This year, Zuber has excelled, leading the team in assists while scoring 10 goals in the regular season.
"She contributes to a lot of the scoring-opportunity game moments. She creates a lot of plays like that and works very well with others on the team," Acalanes junior Taylor Carlin said.
During Acalanes' Feb. 3 match against Las Lomas, Zuber helped lead the Dons to a 2-0 victory. Zuber scored the match's opening goal and played an excellent all-around game.
In addition to being a major contributor to the team's success, Zuber strives to be a considerate teammate, both on and off the field.
"She constantly makes the team feel like a family, and she is constantly trying her hardest to include everyone and be there for everyone. On the field she is always there working hard and fighting for everyone," Carlin said.
After a dominant regular season, the team finished as the second seed in the Division III North Coast Section.  Zuber has had a substantial impact on the team's dominance during its deep playoff run.
"She'll have a super positive attitude and she'll make sure everyone on the team is excited and ready to be there and play," Acalanes senior Ella Johnston said.
Next season, Zuber will rise to an even bigger leadership role on the team, as she looks to make her senior year her best yet.
"She'll be one of the longest-standing captains here because she will have been captain for three years at that point, so she'll really know how to get the team together, and get everyone excited and bonded," Johnston said.