Acalanes governing board updates student-teacher interactions policy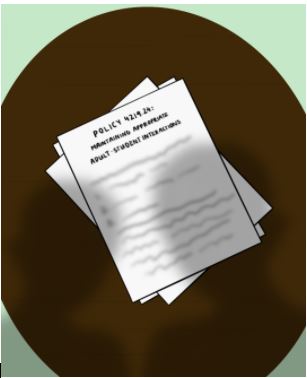 The Acalanes Union High School District Governing Board adopted a new board policy entitled Maintaining Appropriate Adult-Student Interactions in December and introduced it to staff in January. It details the professional standards of appropriate relations between students and teachers.
Although the district already had general policies outlining regulations for student-teacher interactions, the new policy details boundaries for student-teacher relationships. The policy contains eight sections that clarify what constitutes inappropriate conduct between students and staff, citing staff members' responsibility to maintain a professional relationship in their position of influence over students. Additionally, the policy aims to limit students and teachers from oversharing personal information in a way that impedes the learning process.
"There was a district, [Redlands Unified School District] in Southern California, that put in a policy like this … I think we were the second ones to do it. Now, the California School Boards Association has taken this template [from Acalanes] to make it available to all school districts," district Superintendent John Nickerson said.
The new policy updates several key rules to set boundaries for contact in and out of school, including electronic communication such as contact via social media. 
 While the District did not directly involve the Acalanes Education Association , the district teacher's union, in the process of writing the policy, the association provided regular input on the policy prior to its publication. The Governing Board and the association released the policy together in an effort to create a safer environment for students and teachers alike.
"This is for the teachers' protection. It's for students' protection … [The association didn't draft it, but they were certainly instrumental in helping us send a united message … This is all of us working for the protection of both teachers and students," district Associate Superintendent Amy McNamara said.
After years of delay due to COVID-19, the district held a staff training session to examine the new policy and to review staff members' responsibilities to maintain professional standards when communicating with students. 
"We had a staff meeting. The teachers were in table groups, and they looked at different sections of the policy. The teachers discussed that section of the policy to be sort of the experts on that particular section, and then they each had a representative share out the main points from the policy that was important for them to know," Acalanes Principal Eric Shawn said.
One goal of the meeting was to make clear the guidelines for student-staff interactions online in response to the increasing interconnectedness between students and staff on social media.
"I think some of the complicating factors we have are technologies, such as social media, … that make it much easier for students and teachers to directly communicate with each other. Because of the complicating factors of technology and social media, we felt that it was important to kind of spell out in a board policy what appropriate interactions would look like," McNamara said. "[The policy] really lays clear the expectation that the District has for how teachers should communicate with students and ways teachers should protect themselves and protect the District from liability, from accusation, from any kind of innuendo."
The new policy specifies that Acalanes staff cannot use social networking sites for communication with students unless the school or district administration pre-approves an application for widespread use or specifically approves the application for a particular use.
Some extracurriculars, such as Mock Trial, require teachers to communicate quickly or more directly with students than is possible through email. The COVID-19 pandemic further exacerbated this need for online messaging, as school-related activities relied heavily on virtual communication.
"In the middle of a [Mock Trial] competition, … I have 30 seconds to evaluate whether there's been a rule violation [in the trial] or not, and I have to communicate with the student on Zoom," Mock Trial coach and social studies teacher Joseph Schottland said. "Usually, in a normal competition, I don't need to have that telephonic or [text] conversation, but because everything's over Zoom right now, it has to be done by texting. I will be going to a different type of texting app provided it can give me the immediate response that I need."
District administration recommends that teachers use Google Chat or Remind because these applications keep a record of online conversations. The district restricted the use of applications such as Snapchat because conversations disappear once the receiver opens the text or a certain amount of time passes, violating the district's requirement of accessible conversations. Additionally, teachers must send these online communications through a group text, where there is more than one student or parent in the conversation.
"With Google Chat, … it goes through your district account, [and] there's always a record of your chats with students. There are other apps that teachers use or coaches use on field trips where there is group messaging [and] group texts so that there's more than one witness. It's not a teacher and one student communicating back and forth," McNamara said.
Documentation of all student-teacher digital communications allows the district to review messages for inappropriate content and discussion of personal content between students and teachers.
"Students nowadays tend not to look at their emails as much, so email doesn't seem to be [as] effective [of a] communication tool as it used to be. [The key is] trying to find alternatives that are both District-approved and [keep a record of conversations]," the education association President and Acalanes math teacher Kenneth Lorge said.
In addition to developing regulations for online messaging between students and teachers, the new policy addresses what personal information is appropriate for teachers to share with students. 
Some teachers use personal experiences to help students feel more comfortable in class. With the new policy, however, those teachers are now reviewing what they choose to share with students in consideration of how these choices affect how safe students feel in class.
"There weren't explicit rules for [teachers sharing their personal lives and experiences in the classroom with the class], so there's an area in there for interpretation, and … I've been reflecting a little bit more … to think about if there are places where I should adjust to create a safer space for students," AP Environmental Science and Human Social Development teacher Jada Paniagua said. "In the past, I saw [sharing personal experiences in class] as a way to normalize discussions of mental health, to try to pull them out of a place of stigma … I have spent some time reflecting in the past few weeks wondering if in doing that, I've also maybe made other spaces less comfortable or less supportive for students."
The Acalanes administration also discussed how teachers cannot cross students' physical and emotional boundaries.
"[At a staff meeting] they said, 'Don't cross students' emotional boundaries,' and so I asked about that. Physical boundaries [are] something that we can see and understand, but … what is an emotional boundary? What is that definition?" Acalanes Spanish teacher Gretchen Schwab said.
Some teachers acknowledge that the balance between informational and emotional aspects of their work can be difficult to manage. The new policy pushes teachers to maintain this appropriate balance in a way that creates healthier student-teacher relationships.
"You don't want to be too distant because teachers are important role models with students and important for their emotional support. On the other hand, [you can be] too close and it becomes a problem. It can be both a problem for the student as well as the teacher. There's a sweet spot that has to be maintained," Schottland said. "I've abided by [the contents of the pre-existing policies on appropriate student-teacher relationships] my entire teaching career, which spans a lot of time, and so I don't see [the new policy] having an effect on my teaching nor [should] it have an effect on any teacher's ability to connect with students while maintaining an appropriate distance."
As the district implements the new policy, administrators understand that sharing personal experiences can be a valuable tool in helping students feel more comfortable and connected in class. However, the District also highlights the potential negative effects of discussing unrelated personal topics in the classroom.
"You can't be a robot that just delivers curriculum [because] that would make for some lame teaching, but you also can't be somebody who overshares about their personal life constantly … You have to have a balance of sharing who you are as a person and caring about who your students are as people but remembering your primary job," McNamara said.
In effect, the policy led some teachers to question how to support students emotionally, as some students tend to feel more comfortable reaching out to a teacher than a licensed therapist or Wellness Center staff.
"I don't disagree with [the policy to send students to the Wellness Center], but I feel like, as a teacher, I know students have reached out to us because they feel that there's a connection they can trust us or me personally. I do feel like, in those times, I am able to support students emotionally in ways that they need," Schwab said. "I feel like now, there's this, 'Sorry, I can't help you. I need to send you to somebody else' [expectation] even though I feel like it's within my skill set."
The district states that while students can rely on their teachers as a form of emotional support, teachers should refer them to a licensed professional if the students are too distraught to learn the material.
"I think you have to be really cognizant as a teacher that you provide a level of safety in your classroom for students, and you obviously provide a level of support for students, … [but] if you have a student who's unable to learn in your classroom because they're crying uncontrollably, … that's the time to take that student and [refer them to the Wellness Center]," McNamara said.
"[If a teacher] violates the policy, but it's not criminal, … we will partner with [the education association] to have a conversation with the teacher that might include progressive steps in staff discipline as outlined in the contract. That could be as simple as a written warning that they can't do that thing with some directives on what they need to do differently," Shawn said. "If staff members who violate their contract or violate the standards of the profession continue to violate this board policy, then that could lead to further disciplinary action, including needing to be put on administrative leave, being given a notice of unprofessional conduct, or an exploration into whether they're fit for duty to continue to work."
In addition to district and school administrators disciplining teachers who overstep professional boundaries, faculty members who know of a policy violation but fail to report it will also face consequences. The new policy  requires teachers to report policy violations while keeping the matter confidential otherwise.
"You can't turn a blind eye to [a teacher] who's just really weird. You have a duty to come forward and say something's wrong with that classroom because … unfortunately, that has happened in the past … and a lot of it was, 'Well, that's not my responsibility.' No, protecting kids is all of our responsibility. We all have to speak up," McNamara said.
For teachers and administrators, the ultimate goal is to provide a safe, productive, and comfortable environment for students to learn.    
"As a parent, I would hope that all of the adults that interact with my children follow these guidelines and norms. I would hope that they understood the basic concepts behind them and not just, 'Oh, this is a rule I have to follow.' This is important for me to do to keep the young people in my life safe," Paniagua said.