Clubs support students learning on pace
Life Skills students often take their learning outdoors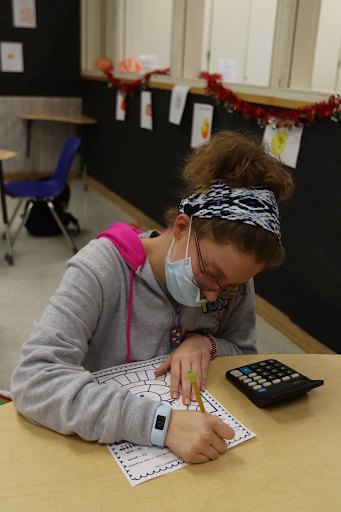 At the end of the 500s wing, out of sight from most Acalanes High School students, lie a few classrooms dedicated to special education at Acalanes. Within these classrooms, teachers provide a space for students with disabilities to learn a variety of academic and life skills, preparing these students for success at their own pace.
Through several clubs, classes, and programs, students and staff within the Acalanes Union High School District provide students with disabilities with ample opportunity to learn academic and life skills as well as to feel more included on campus.
According to EducationWeek, special education encompasses learning programs that serve students with mental, physical, emotional, and behavioral disabilities. The primary law that governs special education is the federal Individuals with Disabilities Education Act (IDEA), which guarantees "specially designed instruction, at no cost to parents, to meet the unique needs of a child with a disability." 
A disability is a physical or mental condition that limits the movements, senses, or activities of a person.
"Special education …means a student qualifies to receive specially designed instruction to meet the unique needs of a child with a disability, and as special educators we instruct youths with a wide range of disabilities. Some high school special education teachers teach basic literacy and life skills to students that have severe physical, cognitive or emotional disabilities, while others work with children that have mild to moderate disabilities," Acalanes Resource Specialist and Unified Sports Director Holly Thompson said.
Students qualify for special education through an Individual Education Plan (IEP), which is a a written statement that describes a child's educational performance, annual developmental goals, specific services they need, and procedures for evaluating whether the student is meeting their objectives.
"When you qualify for an IEP, there's different parts of it, goals are one part of it. The other part is what we call services. Services are things like specialized academic instruction, which is our word for Learning Skills, or specialized academic instruction, which is Essential Skills, if that's the better fit for you," Acalanes Leadership teacher and Friendly Faces Club advisor Katherine Walton said.
To create a successful high school path for students in Special Education, an IEP team that consists of teachers, parents, and necessary specialists, such as speech or occupational therapists, meet to discuss a given student's future goals.
"You develop those goals together based on [the] kind of baselines [that] students are at … and then you work on the goals throughout the year, you monitor the goals, and everyone on the IEP team is informed and sees their progress," Walton said.
When a student in Special Education enters the district, administrators from both the district and the student's middle school district hold a transition meeting.
"When you move from a middle school to a high school, since we are not a comprehensive district, the district [they previously attended] and our district work together. We have transition meetings, and so then it helps the new teachers coming in have an idea of what students are coming in," Acalanes Special Education teacher Margret Cerecedes said. 
One particular learning program an IEP offers is the K-12 Essential Life Skills Program, which is a specialized program for students with intellectual disabilities who need opportunities to develop functional academic skills in addition to skills they need in everyday life such as crossing the street, self-care, and money management.
"My class and [Marissa's class are Essential Life Skills class. My students are going ahead and getting academic support, and they have academic goals as well as life skills goals … life skill [goals] might be [that] we go ahead and cook, we practice washing dishes, we go ahead and fold laundry … All those pieces that are day to day living, at the level of what they are able to do," Cerecedes said. "They're learning those extra pieces that they need to be successful after graduation."
Instead of accomplishing these goals within a strict time frame in a physical classroom, Life Skills students often take their learning outdoors, where there is no time constraint for them to practice and develop life skills.
"Recently I had to work with a student to be able to cross the street, either on their own or with a parent or sibling without eloping, so that was a multiple week process. We did it one street [and] one step [at a time], and then we kind of just built on multiple practice runs until they got it on their own. Then we kind of went further. We did two blocks. [Then we] did a practice trial and error and then it was three," Acalanes Special Services Assistant Victor Granado said.
These students also receive academic instruction, including literacy and math skills.
"[I like coming to school] because I like to do reading and I learn about studying … I read about books, [and] the teachers help me in the staff room," one Acalanes special ed student said. "Writing and math [are my favorite]. I like to do money skills, like market money. It's fun when you know."
Those who work with Essential Life Skills students reiterate that although certain life skills may seem "easy" or "normal" to some people, students in Special Education face challenges in learning that non-disabled students may not be aware of.
"There are some instances [of] learning with a student [such as] being able to learn how to use utensils, putting butter on bread, or just some simple stuff that we would see as easy for us or normal. But for some students … it was something that took practice runs and practice runs and practice runs, because for them having learning disabilities and for some instances intellectual disabilities, it just made things a little bit more of a process," Granado said.
Although the Essential Life Skills class curriculum may appear different from general education curricula for non-disabled students, the class holds the same aim as most others: to educate students to become successful in the future.
"I don't think there's that much of a difference [between Special Education students and general education students]. Yes, my kids might not be in Calculus, but there's more to it than that. They're going ahead and figuring out their lives and going ahead and figuring out what they can do to be successful, just like every other student on campus, [but] it just looks different," Cerecedes said. "That's their education. That's how they're accessing life and it's just tailored to fit their needs."
Furthermore, special education teachers emphasize that their students have the same capability to learn as non-disabled students.
"They're capable of learning, it's a different style of learning… and [the learning] looks different … [Non-disabled students should] see all of the students in our programs as just normal students in the Acalanes community and acknowledge them, even [if it's] just like a wave hello," Acalanes Special Education teacher Marissa Allen said. 
Another learning program that aims to help students with disabilities succeed is the Learning Skills Program.
"The Learning Skills program is a class period in your school schedule, and it's for students that tend to have more mild to moderate disabilities, who are in all general education classes. [The] majority are [students] on diploma track who might just need a little bit more support around the curriculum, or who have individualized goals and do the work on those goals in that Learning Skills program," Walton said.
According to Arkansas State University, a student has mild to moderate disabilities if they can normally function within a general classroom setting with accommodations or an inclusion teacher. These disabilities range from specific learning disabilities, such as struggling in reading or math, to more general disabilities, like a speech impairment where the student needs speech therapy for pronunciation issues.
Whereas students in the Learning Skills program generally have mild to moderate disabilities, students in the Essential Life Skills program have moderate to severe disabilities. Arkansas State University defines a disability to be moderate to severe if it impairs a student from being around others without teacher accompaniment. These disabilities may be severe physical limitations, emotional disturbances, or extreme developmental delays. In general, there are less students in the Essential Life Skills program than the Learning Skills program.
"I don't know the exact number of students in the program, but it's probably somewhere around 100 to 120. So that's much larger than our Essential Skills Program, [which] typically hovers around 12 to 15 [students] per class … and those students tend to have more moderate to severe disabilities, [and] aren't on diploma track," Walton said.
  After leaving Acalanes, Essential Life Skills students generally enter the Del Valle Transition Program, which serves students who received a certificate of completion from a campus within the school district.
"At Del Valle, they get that service until they're 22. So they have four more years, and that program works a little bit more on job readiness and Independent Living depending on their goals," Walton said.
At Acalanes, students in Special Education are often in elective classes along with non-disabled students. In classes such as Art and Drama, teachers make efforts to adjust class content to allow students with disabilities to equally participate in class activities. These teachers express that they do so in order to create a space of inclusivity.
"[Essential Life Skills] students in particular, are really integral to our class because…drama is a space for everyone regardless of…who you are, and what you are," Acalanes Drama teacher Ed Meehan said. "For me, it's less about modifying my curriculum and more about honoring and making sure I create a space where these very valuable students can find home like everybody else and work with all students."
People who work with students in Special Education further reiterate the importance in treating these students in a way that does not make them feel isolated.
"Despite the Essential Skills' students being non-verbal and having limited ability to communicate, they still feel and have the same emotions that all students have. Recognizing them in the hallways with a 'hello' or saying 'hi' to them when you see them at lunch means more than anyone can understand," Thompson said.
Students agree, encouraging the general student population to actively promote inclusivity.
"It's important that special education students feel included because they are an important part of our school. We don't have too much daily interaction with them due to their classrooms being farther away and other factors, but it is still great for us to get to know them and to make the extra effort to help them feel welcome and included. Creating relationships with the special education students is beneficial for them and for us," Friendly Faces Club President and Acalanes junior Lily Hanzel said.
Those who work with Special Education students also note the importance of not acting differently towards them; instead, view them as another classmate.
"Be considerate, kind, and view them on equal footing, because if you don't view them on equal footing, it's like you're doing them a disservice. How are we supposed to help them become better when we're walking on eggshells [around them]? It doesn't help them," Granado said.
Essential Life Skills students often recognize and appreciate the teachers who work with them at school for the skills to live a fulfilling life. 
"They were helpful. [The teachers] helped me out a lot. People help me a lot here. The teachers in the back, they help me out a lot. They [gave] me help on the dancing, more…[They] do it all, they do it. They're working hard. They really work hard in here," another Acalanes special ed student said.
Furthermore, students in Special Education often form close bonds with the teachers who aid their learning.
"Ms. Allen makes me so happy because she makes me do some things well…She helps me, she teaches me to do job stuff and listen to songs on my computer," said an Acalanes special ed student.
Similarly, assistants who work with special education students note the satisfaction they feel from bonding with students with disabilities.
"I think it's gratifying because you can tell that you make a positive impact on the students and also you can see tangible results once you work with a student over time," Granado said.
Other students share the same feeling of gratification after spending time with students in Special Education, knowing that they made a special impact on another student's life.
"I love working with special education students because I can really see the effect we are making through the smiles on their faces and the enjoyment that our events bring them. Plus, they are super fun to hang out with and get to know," Hanzel said.
One way for non-disabled students to connect with special education students is through clubs on campus, such as the Friendly Faces Club. Leadership's Community Outreach Board created the Friendly Faces Club with the hopes of connecting general education students and special education students.
The club strives to create a school environment where students in special education and the general student body can interact on a regular basis through games and activities.
"At Friendly Faces Club we do a bunch of different activities. [We've] played soccer, or kick the ball. We've done painting, balloon tag, and just recently we've had a 'Just Dance' dance party. The Leadership board that runs it, Community Outreach, has planned many different fun activities to help us bond with the kids," Friendly Faces Club member and Acalanes sophomore Steph Boustani said.
Clubs such as Friendly Faces help to get rid of stigmas surrounding special education by providing a space for non-disabled students to interact with students with disabilities.
"It's true that they look different than the average teenager and they have disabilities that make it harder to learn, but after talking to them I realize they are so imaginative, some shy, some upbeat and not caring what anyone else thinks," Boustani said.
Ultimately, many students feel that more opportunities for education and interaction with students with disabilities will facilitate a more welcoming campus for all students.
"I wish we could have more education to remove the bias around special education. While students are super kind to special education students, I think it would be beneficial for students to understand that they are students just like us," Hanzel said.
Leave a Comment