How fair is extra credit to boost grades?
Students rely on non-curricular extra credit opportunities, debate about accessibility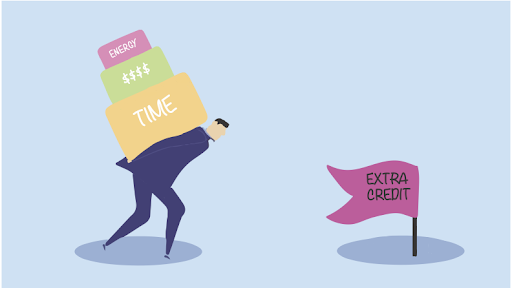 A long line wrapped around Acalanes High School's small theater as 123 Acalanes students awaited admission to a showing of Hidden Figures. Members of the school's Students for the Advancement of Global Education (SAGE) Club excitedly checked students in, knowing that each student donated five dollars towards the Malala Foundation for their ticket. However, out of the 123 people that attended the event, only seven came solely to see the film. The other 116 came for an extra credit opportunity. 
In recent months, educators within the Acalanes Union High School District have made an effort to address the challenges in providing extra credit opportunities equitably.  
The discussion of extra credit emerged from the "Grading For Equity" program, which took place in October. Joe Feldman, author of Grading For Equity: What It Is, Why It Matters, and How It Can Transform Schools and Classrooms, designed the program for schools looking to change their grading practices. Feldman explained the importance of implementing extra credit equitably as one method to provide equal opportunity for students in the classroom. Following this program, Acalanes educators now focus on grading students fairly regardless of the students' resources.
Educators break down extra credit into two categories: curricular extra credit, like an extra problem on a test, and non-curricular extra credit, such as attending an event. Teachers often utilize extra credit to reward students for expanding their knowledge beyond the learning requirements. 
"It should only be assigned if it's going to give a genuine learning experience to the students that are going to be doing it …. I've provided extra credit on reviews before unit exams, which put a lot of responsibility on students to kind of go out and find their own pieces of evidence and think more deeply about what might be on the test than just filling out a review," Acalanes AP U.S. History and World History teacher Bruno Morlan said.
While some curricular extra credit enriches students' learning, various students question the value of extra credit problems on tests compared to non-curricular assignments.
"The usefulness of [extra credit problems on tests] can vary because sometimes it'll be a problem where if you don't do it completely correctly, there's no partial credit on the extra credit. Or it'll be ridiculously hard, kind of on purpose, so that nobody gets it," SAGE Club President and Acalanes senior Katrina Ortman said. "Some students turn to non-curricular extra credit opportunities because the curricular extra credit, like an extra problem on a test, appears out of reach for the current skill set of students taking the exam."
As students rely on non-curricular extra credit opportunities, a debate arises about the accessibility of these opportunities.
"A lot of teachers use extra credit as a way to motivate students or to give ways for students to get other points. You bring in cupcakes … or you bring in the Kleenex boxes, or you go to the museum to see an exhibit based on something that you're working on in class," Feldman said. "The problem with extra credit is that it very much reflects resources that students have. So the students who can afford to buy the ingredients for making the cupcakes and someone to help them make the cupcakes are better able to take advantage of the extra credit, or, [someone who] is able to go to the museum. It ends up amplifying, or perpetuating, inequities that are happening outside the school."
Various teachers on the Acalanes campus agree with Feldman. Some opt to avoid providing extra credit opportunities entirely, rather focusing solely on course content.
"It's not really fair. Maybe some families can afford to buy a case of tissue …. Some people might be able to afford to go to some great activities in San Francisco. That's all wonderful enrichment, but I like to focus on the standards that we're teaching and allow all students to be able to demonstrate their understanding," Acalanes Geometry and AP Calculus teacher Julee Henderson said. "I don't normally give extra credit because I'm really an advocate of assessing students on their true understanding of whatever the standards they're supposed to have learned."
Many Acalanes students recently received extra credit for attending the SAGE Club's showing of Hidden Figures. Some Acalanes teachers justify providing extra credit for attending the event because they believe students can take away valuable messages from the movie.
"[The Hidden Figures] movie is curricular in the sense that it's learning something about social studies. This was a historical [and] cultural event. It was these African American women, mathematicians who were persevering against the racism of the 1950s and 60s … In fact, it's exactly what our mission has become now is to try to bring in marginalized voices. So it's very much curricular in that sense," Acalanes World History and AP Comparative Government teacher Joe Schottland said. 
Students also note the value of attending non-curricular events, such as the SAGE Club's movie night.
"It's five dollars to support a really charitable cause and also you're learning about gender and racial equality which is good. [We are] spending time here outside of school learning about gender and racial equality issues, things that continue to remain prevalent in today's society," Acalanes freshman Cedric He said.
However, many students claim that most attendees blindly donated to receive a few extra points. Students share how extra credit was the primary incentive for attendance rather than donating to the Malala Foundation.  
"I honestly think most people came for extra credit because that is the main draw … I get it, it's a Wednesday night and most people would rather be doing something else so we usually use extra credit as a main draw," Ortman said.
Many teachers try to provide alternative assignments for their extra credit, but unfortunately, students with busier schedules struggle to take advantage of most extra credit opportunities. 
"I think [the SAGE Club movie night] would have been fun and also helpful for multiple of my classes. It would have helped to round my grade up to a higher percentage. I often don't [complete extra credit] personally because of my packed out-of-school schedule," Acalanes sophomore Siena Billings said. 
 Some students mention that paying to attend an event for extra credit also relies on a students' access to money. 
"Any extra credit where you have to pay for it isn't really fair either. It's a little elitist. Not everyone, even on small amounts, is able to pay for things that would raise their border grade. In things like that, where they don't really put a lot of effort other than money aren't really fair," Acalanes junior Osanna Deng said.
While assigning extra credit, many teachers make accommodations for the limitations some students encounter. However, teachers notice that the majority of students in affluent communities like Lafayette generally act on extra credit assignments, even when they require additional resources.
"Does it disadvantage certain students because of the cost? In this community, I don't think it happens often, it might happen in other communities, right, just because this is a more well-off community. If cost was a problem, yes, I would make arrangements," Schottland said.
Students in areas with lower household incomes, such as Mount Diablo High School in Concord where the average household income is $89,564 according to the United States Census Bureau, are not able to take advantage of these forms of extra credit to the same extent as students at Acalanes, where the average income per household is closer to $178,900. Educators in districts with lower household incomes note the greater number of students with limited access to resources compared to Acalanes. Besides time and money, teachers find that when assigning extra credit to the whole class, varied living situations affect certain students' ability to earn credit.
"A lot of [the students] work. A lot of them come from large families, or mom, dad, or both work or they have multiple jobs. It's actually increasing the gap between the students at home who have a nice quiet place to study with parents who keep the house quiet from the majority [of students] who don't have that kind of living situation," Mount Diablo High School teacher Ruben Quiñones said.
In addition, some students lack reliable internet access and streaming access, which often correlates with a student's financial situation. 
"We watched a movie in class. It was called He Named Me Malala about Malala Yousufzai, the Pakistani activist and Nobel Prize laureate, and some students missed it. It was a makeup assignment. I wanted [students who missed the movie] to watch it, but they didn't have Amazon Prime and they didn't have didn't have a way to watch it at home. Again, to me, [it's just] like renting for four dollars, but I didn't even feel comfortable asking my students to ask their parents to do that," Quiñones said. 
Although extra credit serves as a tool, as high school teachers strive to prepare students for grading at the college level, some teachers argue that extra credit may curb preparation for college.
"My senior class is an AP class. That's [a] college class. Newsflash, there is no extra credit in college. It doesn't really exist. So [if] I should be treating them like [it's] a college class, then I should be aware of that," Schottland said.
College professors express that excessive extra credit contributes to a false sense of security regarding a student's grade, making the transition to the college level harder for some students.
 "We need to be careful because, relatively speaking, [we] might be sending the wrong message. Students may then go on to college only to realize that the 'A plus' [they] got may not have reflected necessarily [their] level of knowledge and may have been inflated," University of California, Berkeley Assistant Engineering Professor Adda Athanasopoulos-Zekkos said.
In addition, some professors believe that providing too much extra credit redirects students from learning curricular material. Many professors in college only offer extra credit to motivate students.
"If the teacher does give extra credit, it should be to motivate them so they don't just disappear. To give someone a hope to be successful, and to help them learn the stuff, that to me is the reason to give extra credit and bonuses. It's even worse now because of the pandemic. I think students are so stressed, I mean faculty's stressed, that anything you can do just to give them hope because they could have problems," St. Mary's College Math and Computer Science Professor Kathy Porter said.
Many teachers hope that a student's grade should reflect their interest in the topic, whether the teacher offers extra credit or not.
"I think it's mostly about the culture that the teacher communicates to the student that it's really about learning. If you love learning and you enjoy what you do, and you're passionate, then the grade should come as a result of that," Athanasopoulos-Zekkos said. 
As teachers look past the benefits of extra credit and acknowledge the reflection of resources, many educators view this as a turning point in education.
"We realize that a whole lot of [grading practices] that we've been doing, we can do better. And how can we be better? How does this align with our deep commitment to serving every kid? I think we have a choice," Feldman said.
Leave a Comment