Group therapy for students 
Peer Groups will be more collaborative rather than typical one-on-one sessions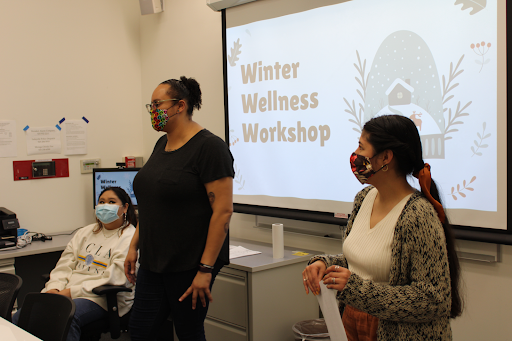 A safe haven for anxious students; a meeting space for affinity groups; a support system for those without one. For the past four years, the Acalanes High School Wellness Center has focused on building relationships and providing a safe space for all of its students. 
Over the course of the first semester this year, the Wellness Center developed plans for weekly student therapy and support groups starting in January 2022. 
The Wellness Center Peer Groups provide a venue for people who are going through similar experiences to meet, interact, and work through these issues with each other.
"This is for people that have lost loved ones or for people who are struggling with anxiety or who need coping skills for depression. This is going to be much more specific and each group is going to be a close kind of community," Acalanes Wellness Intake Specialist Kiara Thomas said.
Unlike other Wellness programs, the Peer Groups will be more collaborative rather than typical one-on-one sessions. 
"The most important part is the group dynamic. We have to create a space where people trust each other and get familiar with each other so that they can share real problems and get real support," Acalanes Wellness Coordinator Allen Choi said.
The program will follow the format of professional group therapy sessions while focusing on particular topics specific to each group. Wellness leaders will moderate these sessions over the course of an eight-to-twelve-week period with structured meetings held weekly.  
"An example of a situation would be that you have an afterschool group [with the] same people every week for eight weeks. If you're talking about, say, LGBTQ+ population, then each week we might have a different topic to talk about. One week it might be about people in the media that we can look up to, and another could be about tough experiences that we've had," Choi said.
Peer groups provide an opportunity for students to meet and relate to other individuals who share similar concerns.
 "We will develop a general structure each week, but we're also going to have a space where when people get to know each other, they will be able to bring up real-world situations and support each other. Different ideas, different thoughts, different solutions," Choi said.
According to experts, group therapy offers a host of benefits for participants because of the bonds formed in this setting. 
"I think that anyone could benefit from it because as long as it's done well, there's only good stuff to be had, lessons to learn, and relationships to be formed. One of the things that can be really great about group therapy is it can really emulate trusting relationships in people's lives," Tulane University Medical Center social worker and therapist Dr. Heidi Breaux said.
Students look forward to working through their shared situations as a community rather than having one-on-one conversations.
"I think it proves to be very helpful because when you're just talking one on one, it might seem like it's all focused on you, and you might not learn as much. When you're in group therapy, you get to learn more about other people and feel like you're included in a group and that you're not the only one going through this," Acalanes junior Natalie Costales said.
Overall, students hope that the rise of Peer Groups will lead to more inclusivity and empathy throughout the student body. 
"It promotes mental health around campus by giving the students a space to express themselves and their emotions and feelings. It helps the people around us learn about it and learn how to better help someone in certain situations," Acalanes sophomore Elyssa Gutman said.  
Leave a Comment