Live theater returns to Clayton Valley Charter with 'Dead Man's Cell Phone'
Exploring compulsion society has for electronic devices on stage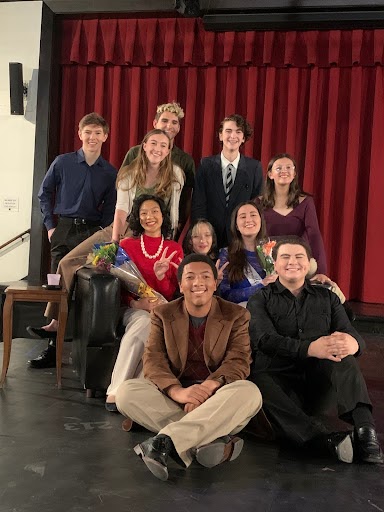 After a year-and-a-half long break, Clayton Valley Charter High School's drama program performed its first live play since the COVID-19 shutdown in March 2020. 
This fall the theater group put on a production of "Dead Man's Cell Phone" by Sarah Ruhl, which explores the compulsion society has for electronic devices. It follows a young woman named Jean and her journey after answering a dead stranger's phone.
Opening night was Friday, Oct. 15, with two more performances Saturday and Sunday. 
The play was held in the multi-use room of the CVCHS campus. It was open to the public, with masks and proof of COVID vaccination required. 
This reporter saw the Sunday showing, the last performance. With a seating capacity of 250 people, the room was about three-quarters filled. 
Abbey Elwood, sophomore, played the lead in the play.
What was it like to perform after such a long break due to COVID?
"It was a bit scary just putting yourself out there and not knowing how the crowd would react and if you were going to mess up."
When you first read the script, did you see yourself as the lead or another part?
"Well, I read the encyclopedia [description] before I auditioned – I didn't actually read the script until I was casted – so it kind of made it different. But yeah, when I was reading the summary, I definitely sympathized with the lead, Jean, the most, and I felt I could relate to her. So, I guess in that way, I imagined myself as her."
How were you feeling before opening night?
"Very, very nervous, but also confident. This is my first lead, so that definitely made me feel that there was a bit of pressure. I didn't want to let people down, but, I mean, we'd been rehearsing a lot and I just felt like I was ready — prepared."
What did you learn from performing in this play?
"I learned that sometimes it's better to loosen up and just go with things, not to let your nerves get the best of you. And obviously, what it's like to perform on a big stage and how tech works, which by the way, tech is amazing."
What important lesson do you think people should take away?
"Well, the play is about technology and how it affects our world. I guess I want people to take away that we're kind of in a technology-obsessed world nowadays and that it can be both like a blessing or a curse. And it's also good to remember what life would be like if we didn't have technology, if there wasn't always a machine in your pocket that might ring."
You spent months preparing and rehearsing, and now it's all over. How does it feel to be done with the play?
"I don't really know what to do with my time. Reflecting back, it was an amazing experience and I'm sad that it's over, but I'm also happy that I've had it. It's a part of my life now."
This article was originally written for The Talon, the student news site of Clayton Valley Charter High School in Concord. 
Leave a Comment