Women make progress in STEM programs
Engineering falls behind in terms of gender balance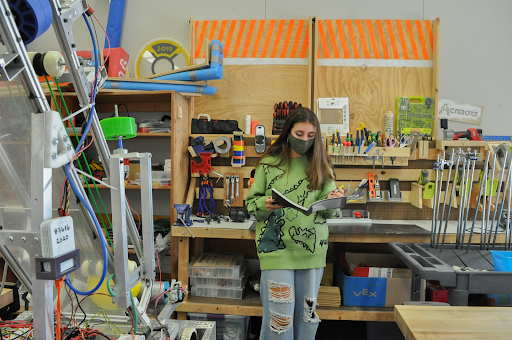 A sea of blank faces stare out at former Acalanes Principal Travis Bell as he delivers the good news: the Acalanes Introduction to Computer Science class just won an award for the highest rate of female participation in the course throughout the district. One by one, heads turn to face the three girls in seventh period, whose faces mirror their classmates' stunned expressions. 
   Despite the growing number of women in STEM programs, a disconnect remains between the classroom experiences that female students and their male counterparts receive. This inconsistency stems from a variety of factors ranging from internalized pressure to societal expectations that take root long before a student ever sets foot on campus.  
   The ability to learn about the rich history of male figures in STEM while growing up provides young boys with an endless source of inspiration and role models. Reflecting on their own childhood experiences, many female students feel that they lacked those same set of footprints to follow. 
   "It's always been a deep-rooted cause, and I think a lot of it comes from when we're little and you'll hear these stories about, for example, a male software engineer who got their first computer at five years old and started programming at 10. I think most [women] don't have many opportunities to get involved with programming, or just any advanced stuff when they're young," Acalanes graduate Megan Go said. 
   While most people may view a simple off-hand comment as unimportant, many students blame small, careless phrases or dismissive attitudes towards women in STEM as an underlying cause for the low female participation rates.  
   "Growing up, girls are told to focus on other subjects like the humanities instead of STEM. And those [STEM classes] are then perceived to be more male-dominated fields, so you don't try as hard or see yourself doing it in the future," Acalanes  junior Mary Laska said.
   As more female students join STEM courses each year, it becomes more apparent which subjects still lag behind. These classes tend to be electives, which means students choose the class instead of being required to take it. 
   "In classes like calculus and bio…it's more even. But I also think that's because those aren't elective classes. Those are classes that most people take…When you get into electives, and also computer science, I was one of three girls in computer science, so in the elective classes I think it's way more pertinent," Go said. 
   STEM-related electives lag behind particularly in all girls schools, where classes such as construction are only beginning to gain traction.
   "My daughter Macy goes to Carondelet and I was just at back to school night last night, and one of the things that came up is that she's taking a class called engineering for social justice, and they're building a tiny house. It's the first time in the entire history of Carondelet High School that they have ever had any construction class offered," Pediatric Sports Medicine Specialist Christine Boyd said.
   Female STEM teachers at Acalanes note that the imbalance between male and female participation was far greater when they were in school compared with today. For some teachers, their experience being in STEM fields at school was negative enough that it deterred them from pursuing a STEM-related career any further. 
   "When I started college, I was in the engineering program and what I really noticed … I was one of the very few females in that program and it was super awkward for me. I can't help but feel like that was definitely the reason why I changed majors. So, that's always been on my mind," Acalanes Advanced Placement (AP) chemistry teacher Daizy Asaravala said.
   Asaravala teaches a relatively gender-balanced AP chemistry class, differing from the classes she participated in. However, she notices minor differences between the behavior of her male and female students in class.
   "I think the male students tend to be a little more participatory, tend to be a little bit more verbal, more vocal on just asking questions, answering questions than females. I definitely see a difference there. That's not to say that female students don't, it's just in general," Asaravala said.
   Some students note that the stereotype that men are responsible for most STEM achievements plays a role in some classroom environments.
   "There was one time in Mr. Poling's class, where there was a story about a scientist who had no gender and everyone assumed that said scientist was a male because of what was being said about them. And so I guess there's just an assumption that if you're taking a science class that you are a male," Laska said.
   Areas such as engineering also fall behind in terms of gender balance due to certain stereotypes and stigmas. Megan Go recalls being one of just four women in her engineering class, and Acalanes engineering teacher Misha Buchel notes that his engineering class still remains heavily male-dominated today. 
   "I think it's the stereotype of what engineering is. It's unfortunate because I don't see any difference in performance between male and females, [but] for whatever reason, that stigma is at work," Buchel said.
   The stigma revolving around women in STEM does not only affect the classroom environment; it creates internalized pressure for many women. Some women feel that they must outperform their peers just to prove they belong in the class. This pressure causes hesitation and self-doubt to be prominent feelings among females in STEM.
   "I'm a big part of the Math Club, and I guess something that I've seen is that a lot of girls are kind of hesitant to do math competitions and stuff like that because they're scared that they won't be good enough," Laska said. 
   The issue of "The Imposter Syndrome", or feeling doubt and incompetence regardless of consistent success, defines these feelings among women in STEM. Created by low-self confidence, lack of support, and self-doubt, some women struggle to feel that they belong in a subject with few female role models and classmates. The pressure of being an outsider within these classes may be discouraging to young women who are interested in STEM electives and fields.
   "You just sometimes can feel out of place, especially if you're coming in not knowing anything like I didn't know anything about the different disciplines like engineering, when I went into my engineering class so that's a little bit intimidating," Go said.
   Despite the array of stigmas surrounding women in STEM classes, many females continue to power through and carry the weight of actively defying stereotypes within their field. 
   "There's like an assumption that you're not as good because you're a girl, and then you just kind of want to prove them wrong," Laska said. 
   Female teachers may boost the confidence of female students who may be a minority in their STEM classes, as seeing a female figure of authority can ease the uncertainty of participating in a male-dominated class. 
   "My physics teacher and comp sci teacher are both women. I know that there's another Calculus AB teacher that's also a woman. The demographics are changing. It makes it easier for me to see myself in a position involving physics or computer science just having women STEM teachers," Acalanes junior Catherine Judson said. 
   As a female STEM teacher, Asaravala tries to create an inclusive environment for all her students, especially after her personal experience of being a female chemist. She does this by using various strategies to encourage participation. 
   "To make sure everyone participates, one of the strategies I use is 'turn and talk' where I ask a question and let everyone talk amongst themselves, talk to whoever they want to about the question, and then it seems like more people participate in general," Asaravala said. 
   While there are plenty of factors that contribute to how engaging and enjoyable a class is, teachers can have the ability to make a major difference regarding learning material, activities, and classroom mindset. A student may feel more confident in a class that they struggle in because a teacher helps improve their overall learning experience. For girls in STEM classes, encouraging teachers play a large role in their navigation through challenging courses.
   "I do enjoy math class, even though I don't always feel like I'm very good at the subject. I've had really good math teachers for all of high school so they've made it a lot easier for me to approach stuff that I personally am not understanding [that] other people might get, but they've been very welcoming," Judson said.
   While there are still gender imbalances within certain STEM classes at Acalanes, the school has made significant progress and continues to support and promote inclusivity. Most teachers, if not all, are devoted to providing students with comfortable learning environments at school. 
   "I'd like to think I'm pretty conscious of what's going on in the room. I haven't had any reports, anonymous or not, about gender-bias in this room, or about me and the environment I'm creating. I'd like to think the answer [to whether there is gender-bias] is no, but do we ever really know?" Buchel said.
   Former female STEM students encourage girls to participate in these STEM classes regardless of the gender imbalances, stereotypes, or stigmas regarding women in STEM.
   "You just have to remind yourself that it's really just all internal and that you can do it, and it never hurts to try. So that's what I'd say, I would just try to push past any sort of insecurities or like disbelief that you can't do it, and just go for it," Go said. 
Leave a Comment