Getting to know Skylar Tanaka and the band District
Students continue pursuit of performing arts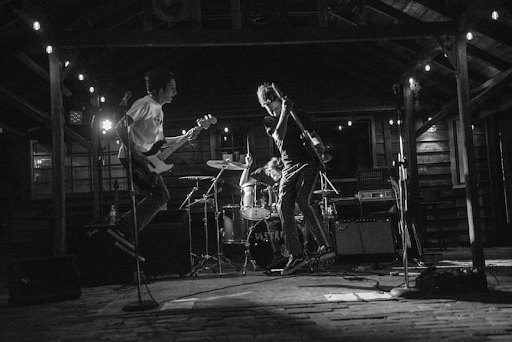 Skylar Tanaka: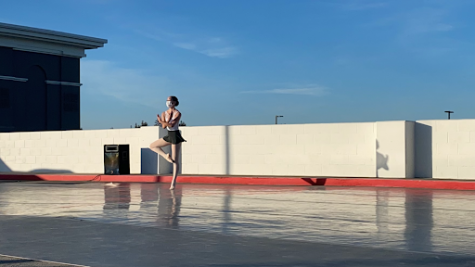 Whether after lacing up her ballet slippers or putting on her cheer uniform, Acalanes junior Skylar Tanaka often spends her time dancing. 
Tanaka has been dancing for the Ballet School Performing Arts in Walnut Creek since she was four years old. The skills she has accumulated astonish her peers.
"Working with Skylar is a pleasure. She is a talented dancer with gorgeous lines, her grace is breathtaking, and she is fun to talk to in general. She has nothing terrible to say about anyone and is very considerate. Her flexibility is eye-catching and most importantly she is like a sister to everyone at the studio," Claire Young, a fellow dancer of Tanaka's, said.
Tanaka goes to the studio six times a week. She is often practicing for a performance, whether it is the spring concert, June demonstration, or the Once Upon a Christmas performance. 
"I enjoy working on a piece and then being able to present it to people. I guess performing is probably the most exciting part about it just because of the adrenaline rush that you get from a live performance, knowing that you only have so many chances to get it right, so you have that pressure on you, but then it is also such a thrill once you are actually done with the show," Tanaka said.
Along with doing ballet, Tanaka branched out to a more hip-hop form of dance when she joined the Acalanes CheerTeam freshman year. She has since advanced onto varsity.
"She's an amazing friend and teammate. She always picks up on dances quickly, and always brings positive energy to the games and practices, and not only is she amazing at dances, but she's also great at stunting and cheers," varsity cheerleader and Acalanes junior Alyssa Fong said.
District:
The band District began in 2017 with the Music Co-op, an organization that introduced De La Salle senior Marco Stassi to home-school graduate Miles Ezra, and influenced them to start a band. They named the band District. Stassi is the lead singer and songwriter, in addition to playing guitar. Ezra is the drummer and sometimes the songwriter. In 2019, Acalanes senior Connor O'Tootle joined as a bassist.
"I originally started playing guitar about five years ago, but I picked up the bass three years ago when I joined because the band was looking for a bass player …. It has helped broaden my musical horizons and encouraged me to try and pick up other instruments, like the piano and drums. I also love performing. It's a fun creative outlet and I have a great time playing with my bandmates," O'Toole said.
O'Tootle traces the band's inspiration back to alternative rock bands like Green Day, the Red Hot Chili Peppers, and Nirvana, as well as heavy metal bands like Metallica and Sublime. The band mostly performs at benefit concerts, including one for suicide awareness, and recently performed as an opening band for the Phoenix. Additionally, the band recently released a new album called "Outdated," which is available to stream on Spotify.
As the band continues to create music, it captures the attention of students around campus.
"I think District's music is really awesome, and I think it is cool that a band from our school is doing well for themselves and making music that people enjoy," Acalanes junior Luca Mathias said.
Leave a Comment