Broadway hit holds lesson in teenagers' mental health
Powerful message emphasizes severity of mental health problems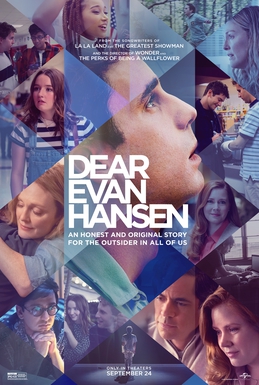 The hit Broadway musical "Dear Evan Hansen" takes a leap from center stage into the cinematic world.
Winning a total of nine Tony awards, including Best Musical, the highly acclaimed production tells the story of teenager Evan Hansen, starring Ben Platt as the titular character in both the original musical and newly released movie. Evan, a high schooler who suffers from anxiety and depression, struggles to navigate his way through life. When hearing that an acquaintance of his, Connor Murphy, took his own life, Evan finds himself skewing the truth in exchange for popularity. Evan's transformation from a liar to an influential role model demonstrates the shared commonality of mental illness, especially amongst the teenage demographic.
"I saw 'Dear Evan Hansen' on Broadway a couple years ago," senior Izzy Pursiano said. "I feel like this musical really brought to light some of the issues that teenagers face regarding mental health." 
The musical's moving story and powerful message emphasize the severity of mental health problems. In 2017, the year of its first performance, about 6.3 million teens reported they had an anxiety disorder, according to the National Institute of Public Health. Anxiety, depression, and other mental health disorders are extremely common among young adults, and Evan's journey exposes audiences to the severity of experiencing a mental illness.
While mental health discussions can cause touchy conversations and discomfort, "Dear Evan Hansen" has a focus on mental health which brings awareness and recognition to an avoided subject. "In early marketing meetings, we stayed away from words like suicide and mental health — for fear of being known as 'the suicide musical,'" Musical Producer Stacey Mindich said to TIME magazine. "But once we saw just how the show was affecting people, we realized that some things are more important than marketing messages and talking points, and we quickly embraced our unique ability to impact mental health stigmas."
"Dear Evan Hansen" has not only taught people about mental health but has embraced those who deal with mental illnesses. Rather than suffering silently, many have come forward, grateful for the production's support for the community. According to a TIME magazine article describing the musical's impact on the mental health crisis, one interviewee said, "'Dear Evan Hansen,' thank you for saving my life. I woke up two days ago wanting to do something really stupid. I've never felt so understood and cared for."
Like Evan and the musical itself, students are actively addressing and combating these issues of mental health by educating the community. "The more we bury the topic, the more alone individuals with mental health issues feel," Miramonte senior Laura Boifort said. As president of the Bring Change 2 Mind club, Boifort is working with other students to spread awareness around mental health and develop a more connected, inclusive community. 
"Part of normalizing mental health involves normalizing it in the media. If students see characters or people they look up to dealing with real mental illnesses, it helps destigmatize mental illness," Boifort said. 
The film producers of "Dear Evan Hansen" hope the movie will evoke the same meaningful messages regarding mental health as it did on stage. "That representation is really important because it ensures everyone dealing with mental health issues that they are not alone, and that there is hope, a solution. It creates greater unity and helps promote discussion about mental health," Boifort said.
Following Suicide Prevention Week, which lasted from Sept. 5 to Sept. 11, the "Dear Evan Hansen" film was released to theaters. The producers of the movie strive to evoke the same emotion and impact developed in the live musical using director Stephen Chbosky's unique filming approach — in the song "Waving Through a Window," the scene was displayed on screen as Hansen's thoughts rather than choreographed numbers.
"Dear Evan Hansen" recognizes those who feel lost and empowers its audience to value their self worth. No one deserves to be alone, and, as Evan promises, "You will be found."
Leave a Comment
Your donation will support student journalists of Contra Costa County. Your contribution will allow us to enhance our website and raise funds for student scholarships and to support journalism teachers.