Miramonte seniors' quotes stricken from yearbook
Book will still contain senior-specific material- senior wills, predictions, and parent ads.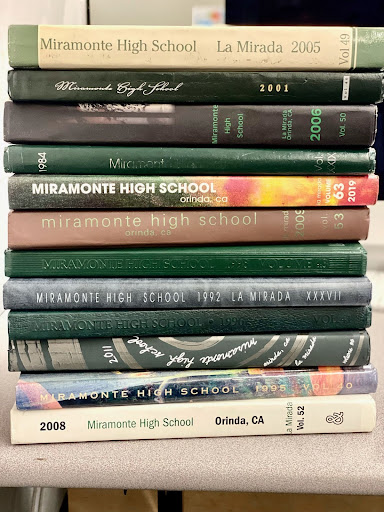 After a series of meetings at Miramonte  in late September, yearbook senior editors and editors-in-chief, yearbook advisor Rebecca Promessi, and principal Ben Campopiano mutually decided to remove senior quotes from all future yearbooks, solidifying a final resolution to a debate initiated in May.
Promessi cited a specific incident occurring last year in which an "extremely misogynistic quote" got through to the yearbook's final round of edits and was caught by Promessi at the "last minute."
Unlike the popular narrative that had spread on social media, Promessi and former principal Julie Parks made the original decision in May, not the yearbook student editors. Promessi describes the situation with last year's quote as the "straw that broke the camel's back" after a series of "close calls" in previous years.
Promessi later met with incoming principal Campopiano and confirmed the decision that was made months earlier with Parks.
"It was a decision made in conjunction with administration, and administration is in support of this decision," Promessi said.
The first decision to remove seniors quotes in May was not initially published, but it spread by word of mouth during early September. After a variety of complaints and questions from students, the yearbook editorial board released an official statement Sep. 10 on the La Mirada Instagram account, stating that senior quotes would be removed from all future issues of La Mirada, following incidents of "highly inappropriate and, in some cases, demeaning and degrading" quotes submitted by students in past years.
According to Promessi, an incident at Campolindo High School involving a student who felt targeted by a senior quote also played a role in the decision at Miramonte.
"There is an option of us losing our jobs over those kinds of things," Promessi said. "We are responsible for upholding California State Education Code, which says that there is freedom of speech, except for things that are obscene, libelous or slanderous, and if I don't uphold that, I am responsible."
Following the announcement, student and parent discontent spread on social media. Miramonte senior Lila Hill started a petition to bring back senior quotes, which garnered over 600 signatures and secured a meeting between Hill and Campopiano. In their meeting, Campopiano agreed to reconsider the ban and make an ultimate  decision in the following weeks.
"In my opinion, the petition really united our grade," Hill said. "It showed that students have the abilities to enact change or to at least voice their opinions, and it worked to an extent because Campopiano did reconsider the initial decision."
After the petition and numerous parent complaints, Campopiano, Promessi, and the five yearbook editors met multiple times throughout September to review the decision, eventually leading to a final meeting on Oct. 1. After lengthy discussions with Campopiano, Promessi and the yearbook editors made the final decision to omit senior quotes from future editions of the yearbook.
The yearbook will still contain senior-specific material, including senior wills, predictions, and parent ads.
"Personally, I feel like the yearbook won't be complete without senior quotes," senior Caitlin Jenkins said. "Senior wills and predictions are fun, but it's always been the senior quotes that I look forward to most. They are such a big tradition that everyone enjoys, and everyone I know has been looking forward to putting theirs in the yearbook since freshman year."
"The yearbook staff wants to ensure that the book is a positive reflection of the school for all students. Rest assured that seniors still get to leave their mark in the yearbook," the yearbook staff said in a statement on the La Mirada Instagram account.
Leave a Comment