Missing year in student development
Student misbehavior represents a major challenge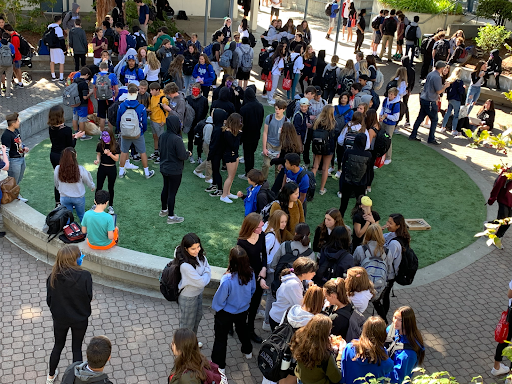 "We were never like that, were we?" 
    Any student knows the feeling of looking to the year prior and cringing at their own experiences. In the aftermath of the COVID-19 pandemic, students and teachers alike find a plague of behavioral issues occurring across the student body, leaving many to question if the year-plus in-person hiatus had effects beyond the gradebook.
   In the effort to assimilate into the daily student life, Acalanes teachers and students alike continue to experience difficulty relearning how to study together, as many blame time lost during an important juvenile developmental period of life.
   Student misbehavior represents a major challenge going into the 2021 school year, causing disruptions to students and teachers alike through a variety of actions ranging from annoying to outright destructive.
  However, to an extent school officials consider the misbehavior par for the course considering the situation.
   "We're in a different time right now, " said Acalanes campus supervisor Andy McDonald. "You know, got to remember that, a lot of these kids haven't been in school for almost two years, you know, when we came back this year, because of COVID obviously, and there's a there's a lot of kids that I guess you could say me me feel the need to express themselves. And I think it's just teenagers being teenagers … I do understand that, you know, kids have been cooped up for 18 months and they want to get out and explore and but again, you know, I'm not in agreement with any kind of destruction or bad behavior." 
    From a psychological point of view, the first consideration is the developmental stage Acalanes students are in.
   "What the first I would say generally speaking is school kids, they make mistakes, their brain is not fully mature, specifically high school boys," said Acalanes psychology teacher Nader Jazayeri. "Your frontal lobe isn't totally mature until you're 25 … You get this position where somebody, they're like really excited and I'm sure their peers have such a huge influence on them. So they're gonna make dumb decisions. Their friends are saying like, hey, let's 'let's do something dumb', and then they'll they're going to do it."   
     Additionally, the nearly two years of lost time as a result of the quarantine built a barrier in development for many students, across the grade levels, making socializing, and by proxy, teaching difficult.
   "I do [think it's a valuable point in development]. I think it's probably worse just because of puberty…what I have noticed with my seniors is, some kids will make eye contact with me, and some kids will not make eye contact like they're still scared to make eye contact with their teachers. You know, some kids think it's OK  to have my phone out on my desk, my computer open, my earbuds in and I'm just doing this, you know. So we're all kind of relearning how to be sociable … They learned their social skills on Instagram, and they think it's okay to behave like this in the classroom. So they actually don't know how to behave in high school," Jazayeri said.
   Many upperclassmen have interpreted this as immaturity, and blamed this slowed development for the issues occurring with underclassmen.
   "Since these freshmen in particular haven't really been in school, since I think like seventh or eighth-grade, they didn't have the maturity impact of starting high school that we did with Don's Day and all of this, like super legitimate stuff happening at the start of the year. So they kind of just went in with the middle school attitude," Acalanes senior Lucas Hasse said.
   For Hasse, this development occurred with his involvement in school activities and connections to older role models.
   "Well, I saw upperclassmen, and especially since my sister had been a senior when I started, I really admired upperclassmen. And I tried to take after their example, considering so many extracurriculars, like sports, and the instrumental music program. But I think that since these freshmen in particular are so disconnected from the rest of the school, just because they didn't have the same like blending that a lot of other classes do, they are kind of their own student body, separated from a lot of the other grades at Acalanes right now," Hasse said.
   Despite popular attribution, the problem hasn't been solely the underclassmen," McDonald said. "While some have been more prevalent in creating issues, no one grade is innocent or guilty.
   "I think freshmen are kind of an easy target just because they are freshmen, you know? Yeah. Did they miss out on a lot of school time? Yes. But you know, sophomores, juniors, and seniors missed out on a lot of school time too. You know, reports that we get, when something's going on, it's not always the freshmen … I think it's, it's been every class this year. And that's, and that's not to say that one class has been worse than the other. You know, I'm sure there is [one class that's been worse], but you know, I haven't seen that. But I think it's all grades. I do, really.".
   However, some see upperclassmen as not having fulfilled their duties as role models.
   "I think the [upperclassmen] are role models," Jazayeri said. "I think that the freshmen see that the [upperclassmen] leave their trash after lunch. 'Oh, I guess that's what we do here. We leave trash after lunch,'…I always tell my seniors, at all the schools I've been at, for the welcome back rally. Some say 'let's hear for the freshmen' and all three other classes, and they start booing the freshmen. I've also seen it where they say 'let's hear it for the freshmen', all three classes standing ovation, welcome, you're going to love it here. The seniors do really set the standard, the culture for what a school is supposed to look like. They're not asked to be put in that position. But you know, [seniors] are in that position, whether you like it or not."
   Some students have felt this pressure from their teachers. Yet, for seniors, the difficulty has been in trying to successfully set an example and for freshmen to interpret it as such.
   "My statistics teacher, my econ teacher, and my band teacher…. a lot of my teachers actually recognize how rambunctious this grade is, and they're constantly pressuring the senior class, or I wouldn't say pressuring, but encouraging the senior class to like, take action and try and set a good example. But it's really hard to set an example for people who aren't willing to learn from you," Haase said.
   To school administrators however, the issue comes in how this role model position is conveyed. The difficulty comes in being role models through example rather than chastisement.
   "I think it's nuanced in terms of how that can be effective," Acalanes Associate Principal Mike Plant said. "I'm saying I think it might be effective to be like, 'Here's how much we care about Acalanes. And here's what we have together in this community, our school, and here's how we want to treat our school, here's how we want to treat each other.' So to me, that's where the dialogue needs to go. Not necessarily, finger wagging 'You guys are annoying,'… I think the message is more like this is our community. This is our school, and these are the things that we see that we don't like, what can we do to diminish those [actions] and also show more pride in our school,".
   Despite efforts from the school, some cases remain more severe than students running around and making noise. The current response remains to punish accordingly.
   "Well you know, I think you have to show a little bit of leniency but at the same time you know again if kids are out there and they're destroying property you know, I honestly 100 percent agree that, you know, something should be done," McDonald said.
   Acalanes looks to grapple with these issues before disciplining students becomes necessary. The Acalanes administration plans to address the issue through in-class discussions and influential students within sports and leadership programs. 
   "So we talked to all teachers about talking to their classes in general about it. And I think that happened with some level of fidelity today … There's a student panel that's meeting to discuss the kind of the problem and to canvas student ideas …. And then I know we're looking at perhaps putting some programming into some freshmen classes, maybe English 9, maybe PE, maybe living Earth, putting some programming into those classes," Plant said. 
   Plant and the rest of the administration is working closely together with teachers and staff to try and control the behavior and actions of students. 
   "That's kind of what we're working on now is how can we get teachers giving more guidance to these kids, and also some students, some older students, perhaps also kind of providing that same message. We've also been working with sports teams. Specifically, we've been working with some of the sports captains on that kind of stuff," Plant said.
   In light of the numerous destructive trends, many parts of the Acalanes staff look to respond with empathy. 
   "I try to be understanding because, you know, whether you guys think so or not we were kids once too, you know. I really believe it'll slow down as the weather starts to cool off. In my experience of doing this — I've been here 19 years now and just from my experience — it always seems like kids calm down once the weather gets colder and starts raining and stuff like that. Kids seem to get a little bit more calm," McDonald said.
Leave a Comment