Students join search and rescue unit
Join group of trained volunteers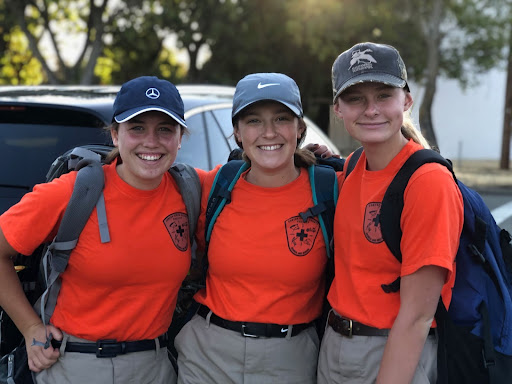 Smiling faces greet Miramonte senior Frances Pope as she checks in a stream of seemingly countless people to receive their COVID-19 vaccinations. 
Through Pope's work as a Contra Costa Sheriff Search and Rescue Cadet, she volunteers at one of the Bay Area's COVID-19 vaccination sites. This volunteer opportunity is just one of the many activities she participates in as a member of the Contra Costa County Sheriff's Search and Rescue Team (CoCoSAR).
The team consists of about 225 professionally trained volunteer searchers under the direction of the Contra Costa County Sheriff Emergency Services Division. The cadets, aged 14 to 18, are younger members of the team. The cadets serve just as the adult team members do, acting as skilled search and rescue volunteers. They are trained to provide medical and educational support for community events as needed at the request of the Contra Costa County Sheriff. Cadets respond to incidents such as missing persons, wilderness searches, natural and man-made disasters, and criminal case evidence searches.
"I am currently the Cadet Captain for the CoCoSAR Team. I help plan events, act as a mentor for other cadets, present [the team's] actions at meetings, and do normal team actions as well as participate in searches and medical details," Miramonte senior Liam Williams said. "This year, I will be a coach for the upcoming academy as well as a team proctor. I really enjoy the team camaraderie and the great people I get to work with to help the community." Academies are training classes that teach essential skills used in search and rescue. Williams joined the CoCoSAR Team during September of his freshman year, and he will soon occupy two new roles. As a coach, he will mentor other cadets, and as a proctor, he will help teach search and rescue techniques to new members.
"I am a type two search and rescue cadet on the CoCoSAR Team, which means that I am a regular member of the team with basic first aid certification and second level search abilities. This means that I can help out with missions in urban and nature areas. When we are on missions or in training, we work in small groups, and everyone gets to be in charge of different roles, like navigation, medic, and communications," Pope said.
In addition to Pope and Williams, Miramonte senior Isabella Pursiano also volunteers as a CoCoSAR Cadet. "I decided to join CoCoSAR because I wanted to be a part of a volunteer organization that made a first-hand impact on our community. The CoCoSAR volunteers are from all different backgrounds, and this diversity allows me to make all kinds of different connections," Purisano said. The team's mission is to provide highly trained search and rescue resources to the citizens of Contra Costa County and other counties, according to the State of California Office of Emergency Services Mutual Aid Plan. CoCoSAR operates primarily in Contra Costa County but can be called to assist with searches throughout California.
To become a cadet, applicants must be between the ages of 14 and 18 and be at least a freshman in high school. They also must be physically fit, have no prior felony convictions, and maintain at least a 2.0 grade-point average. If they are a licensed driver, they must also have a good driving record. 
Before application, prospective cadets are required to attend an orientation, where they will pick up a Cadet application. They  must complete and submit the application, pass a minimum qualification appraisal interview, and successfully complete a background evaluation.
Once an application is accepted, the applicant must complete the Type 3 Academy, which runs for four weeks in September. The Academy classes cover a broad range of skills, including search techniques, lost person behavior, navigation, first aid, radio communications, and field team leadership. Completion of the Type 3 Academy is required for CoCoSAR membership. 
"Once they join our team, our student workers learn quickly to work as a team with many others all from different backgrounds," Captain of the CoCoSAR Team and Cadet Unit Supervisor Walter Eichinger said. "They learn to communicate clearly, follow safety guidelines, and achieve goals through hard work. Then individually, they learn how to take care of themselves and survive a possible time out in the wilderness without many resources. Lastly and most important of all, they learn the value and reward of community service. The cadets on our team have a long, excellent history of hard work, dedication, and a passion for community service. This makes it a pleasure to work with them."
Being a member of CoCoSAR allows students to learn skills and apply them to several real-life scenarios. "My favorite part of Search and Rescue is all of the amazing things I have experienced that I would not have if I wasn't on the team," Pope said. While a part of the program, cadets participate in activities such as overnight hiking, camping, shelter-building, navigating, medical training, canine operations, and more.
Filled with anticipation, Williams studies a map at a CoCoSAR mock search event in Antioch. He is actively keeping track of several CoCoSAR field teams as they complete their assignments while simultaneously relaying important information to them. Though stressful, Williams understands that his work is necessary to ensure the safety and effectiveness of the field teams. Without his attentiveness, the volunteer teams would not be nearly as successful.
Leave a Comment