Free lunch program isn't really free
Students vary in opinions of new program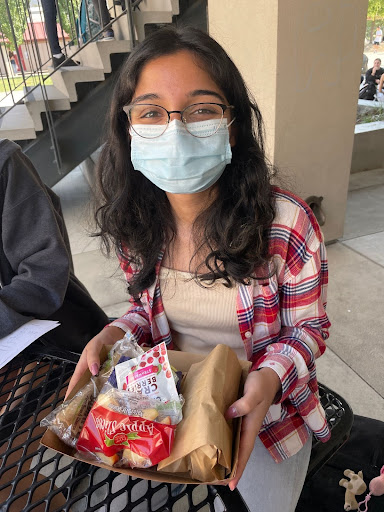 Nothing in life is free, except at Monte Vista High School where lunch is supposedly free. But in fact it costs a lot to make the program work well. 
With students back in the classroom for the 2021-2022 school year, San Ramon Valley School District (SRVUSD) has begun to provide free hot lunches for all students regardless of family income. 
Due to the COVID-19 protocol, all items of food are packaged individually from hot lunches to snack-filled brown paper bags. Vegetarian alternative options are also provided.
"We serve mostly prepackaged food that is ready to grab and go," Child Nutrition Supervisor Kitty Roth said."We also bring in Garlex's pizza, boscos, burritos, and calzones."
Understanding the struggles families may have faced due to the pandemic, Gov. Gavin Newsom launched the Universal School Meals Program in July, providing over 6.2 million meals for California public schools. 
Before the pandemic, families making less than $34,000 a year were eligible for receiving free lunches; incomes less than $48,000 a year qualified for reduced lunches. Now, school lunches are free for all students.
When the Universal School Meals Program was introduced in July to SRVUSD, lunch shortages occurred on the Monte Vista campus. During the first week of school, there was only one location accessible to students to pick up lunches. This caused many students to wait in line, leaving almost no time for them to eat their lunch. Senior Khushi Kunjoor did not even receive lunch on her second day of school.
"I was so excited to try out the new school lunch, but when I got to the front of the line, it [the school] was out [lunches]," Kunjoor said. "I went home hungry that day."
While the incident left many students unsatisfied with the quality of service, Roth said she and her team now make sure that there is enough food for every student, totaling around 600 to 625 meals on a typical day. 
"The first day of school was a nightmare because we were not expecting so many students grabbing lunches," Roth said. "I look at the number of lunches given out each previous week to estimate how much to order."
The quality and flavor of the free lunches is up to debate. But while some students may criticize the appearance and flavor of the food served, it must be acknowledged that meals aren't prepared on campus; they are delivered from food service companies such as Gold Star and Crystal Creamery that craft meals to meet nutritional guidelines.
"Because the government regulates the amount of salt in the food, there are not a lot of flavors," Roth said. "I think when we used to be able to cook the food, it was better."
Despite these issues, many students still have optimistic views on the lunches provided. Whether it's the apple juice or weekly Bosco sticks, students look forward to opening their lunches to a new surprise each day. 
"My favorite part of the lunch is getting the blueberry muffin," senior Sarah Yazbeck said. "It's so nice to not worry about buying expensive meals every day."
This article was written originally for The Stampede, the student newspaper of Monte Vista High School in Danville. 
Leave a Comment