Some clubs gain edge on return
DV club day back to chaotic, crazy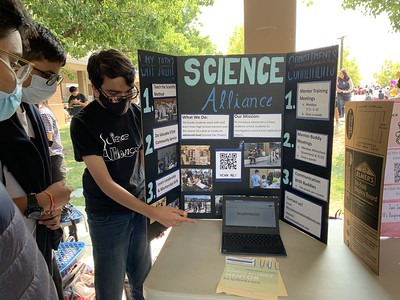 COVID-19 has left many clubs unable to return to their pre-pandemic environment, but as clubs began to resume their traditional activities, this unintentionally turned out to be an advantage for some. 
With Club Day returning in person on Sept. 1, the fervor of students frantically looking at all the interesting clubs on display has returned.  
"I love Club Day — I think it's so chaotic and crazy and you get to see how many people you can reach because it's so hard to find people online," said Drama Club President Gabby Ocampo.
But with COVID protocols still in place, it's hard not to think about how the pandemic has affected club activities. During quarantine, clubs were forced to alter their activities to fit the online format and pause all of their intended in-person events. 
GLIDE, a service club that helps homeless people end their cycle of poverty, originally intended to go to San Francisco and volunteer at soup kitchens. Because of COVID, they were unable to proceed with this plan. Instead, they began fundraising through drives.
"COVID-19 threw a huge wrench in our plans … We felt like we could do so much more if we were able to actually go in person," said Sachi Tamboli, president of GLIDE.
Although adapting to the online environment was certainly a challenge, many clubs found a way past these barriers, even if their impact was to a lesser extent.
"Henna is a hands-on activity and you need to be in person to actually experience and teach people, so I feel like last year was more of us teaching them about South Asian culture," said  Sidrah Siddiqui, president and co-founder of the All Henna on Deck Club. 
However, in hindsight, some clubs are satisfied with the way things panned out. Encountering last year's unforeseen situation has given many clubs a chance to push past their limits and think outside the box for more opportunities to improve. 
"I think [COVID] forced us to step into that leadership position because things were so up in the air last year, we really had to put in the hours … since the legacy was up to a bunch of teenagers," Ocampo said. 
This is especially the case for GLIDE, which was founded during the pandemic. 
"We didn't actually have to make any changes per se. We actually could start from the ground up. With COVID-19, we actually ended up getting a lot more like tech savvy … so we had a lot more opportunity to actually do better," Tamboli said.
The pandemic forced clubs to adapt to a virtual setting, but instead of getting discouraged, clubs were able to overcome this challenge and become more ardent than ever about achieving their mission.
Ocampo comments on her motivation after the pandemic: "Now I do feel that I am more passionate about [drama] and I really want to keep it alive."
Leave a Comment