Tennis nets gains because of pandemic
Free time allows players to improve game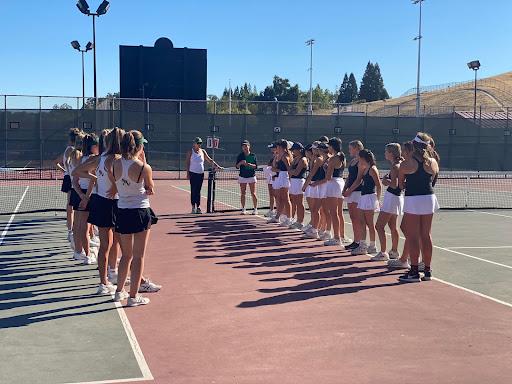 After many months of repeating the same YouTube workout videos or simply laying in bed all day, many students discovered the beauty of the tennis court as an escape from the dull realities of quarantine. 
During the height of the COVID-19 pandemic, athletic facilities shut down. As a result, many found themselves stuck at home with little to no physical activity. But many public and private tennis courts eventually allowed singles to be played. There was little risk in contracting COVID with only two players across the court from one another.
Monte Vista High School Freshman Anabelle Rickets began playing tennis in the summer of 2020 and was inspired by her father who first introduced her to the sport. 
"I thought it looked fun so I took some lessons, ended up loving it, and haven't stopped playing since," Rickets said.
While many returning players were also separated from their beloved tennis courts for months on end, some made an effort to compensate for the play time that was lost. These players took advantage of the abundance of free time to improve their game and technique, whether it was hitting back and forth with someone or just practicing against a wall.
Senior Kate Vavra, who has been playing since she was 7-years-old, said she hit mainly with her personal tennis coach during the COVID shutdown to prepare for whenever the tennis season would open.
"After taking a month-long break because of safety reasons, I started to take two or three private [lessons] a week with my coach to begin improving my game," she said. 
Whatever players did to keep up their games, it seems to have worked. This year's Monte Vista tennis season has been more competitive than ever. Over 60 players tried out for the tennis team and about 37 percent didn't make Varsity or Junior Varsity. In past years, only a handful of players didn't make either of the teams.
Even with the high competition, beginning player Rickets made the JV team. "At first I thought I wouldn't make the team because I was so new to the game," she said. "But thanks to COVID, I somehow made the team."
This article was written originally for The Stampede, the student newspaper of Monte Vista High School in Danville.
Leave a Comment