Return of student life
Schools add COVID-safe events to end of year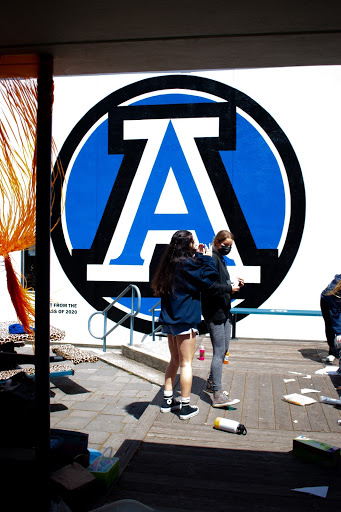 Many students over the last year have yearned for one thing: a return to normal life. Numerous people have not met with friends, gone to school, or held social gatherings. As COVID-19 restrictions ease up, Acalanes Leadership has prioritized filling the social void left by 2020's lockdown.
After a long year of distance learning, Acalanes started this spring to hold COVID-safe events to end the school year on a high note.
The first event was homecoming week, a time-honored tradition at Acalanes. Although homecoming festivities normally take place at the beginning of the year, the school postponed them due to the pandemic. Administration and Leadership later rescheduled them for the week of April 25.
"This year, homecoming is going to be a little different than usual. We are not allowed to have the dance this year and the rally will be pre-recorded instead of in the gym with everyone in attendance. This year we will still be doing hallway decorating and skits, but skits will be shown in the virtual rally instead of done during the rally," sophomore Class President Sierra Lashinsky said.
Leadership worked tirelessly around administrative requirements to create a familiar yet refreshing experience for students.
"We worked really hard to make sure that we could have a skit that was socially distanced with 12 people per dance, and filmed completely either outside or in the gym with only a certain number of people in the gym at a time … Similar to how we did the skits, we've done events with shifts and Sign-Up Geniuses. We made sure that we could have two hours for each person who wanted to come and restricted it so that the hallways weren't too crowded. But everyone still got a chance to be part of the homecoming community," Senior Class President Bella Gladden said.
Homecoming festivities have always served as a way for students of all grades to come together and create positive memories.
"I think [homecoming is] for tradition, but also it brings people closer together. It helps bring the community together and grow something for more people to look forward to when they come here. I think a lot of it is mainly about school spirit and getting everyone involved," sophomore William Stancik said.
Embracing the traditional theme of community in homecoming festivities, organizers also emphasized planning exciting events while keeping everyone involved healthy and protected.
"We definitely made sure that we chose events that had the most community feel, and [had the] most, classic homecoming [feel] our top priority is making sure that we could still have them all being safe," Gladden saidFor many end-of-the-year events, safety stands as a major hurdle in the planning process. Though Leadership kept many of the homecoming events similar to years prior, senior ball required some major changes to remain within COVID-19 safety guidelines. 
"Right now, you can have 100 people at a gathering. That's what the county health guidelines state. So, admin and I just looked at all the events students wanted to do, and made sure what I was putting into place met that [expectation]," Leadership Advisor Katherine Walton said.
In abiding by these restrictions, the administration held an adapted version of the senior ball on May 15.
"We will have a food station on the football field with some really great lighting and food trucks. And then casino tables that we've used in the past and music, and that'll kind of be station one. And then another station will be in the senior deck, which is kind of unusual, but [there will be] a DJ with the stage and lighting on that grass part, which I think will feel really intimate, and not [restrict] dancing [to] the football field, where it's only 100 kids. The third station is going to be in the big gym so [we can have] anything from bumper cars, to mini-golf, to arcade games," Walton said.
While the ball will be different from previous years, seniors are thrilled that administration will hold the event at any capacity.
"I am super excited for the senior ball… I know Leadership is working very hard to make this last stretch of school very fun for all students and teachers. I am very thankful for their effort and stoked to be part of such an amazing school district," senior Austin Kinnear said.
To cap off the school year, Acalanes will continue its tradition of sending off the senior class with a graduation ceremony. While last year's seniors did not get to experience a normal graduation, this year's will be one step closer to pre-pandemic graduation at Acalanes.
"Based on where we are with county health and our numbers, it will be an in-person graduation on the football field. Maybe in cohorts kind of like from prom, maybe in a couple groups, but definitely in-person, and definitely live-streamed to limit audience numbers. Whether that's fully live streamed, or [we have] students in-person and students get a couple of tickets, I'm not sure," Walton said.
Over the past year, the Acalanes community has faced countless challenges. However, many view the revitalization of traditional events as a shining light at the end of a confusing and unorthodox year.
"We've gone through so much as a class already that I'm hoping that it just makes it feel a little bit more normal. We still can come together and bond as a class one last time," Gladden said.
Leave a Comment