Meteoric rise serves as an inspiration
Shebabi inspired by top pro to dominate on court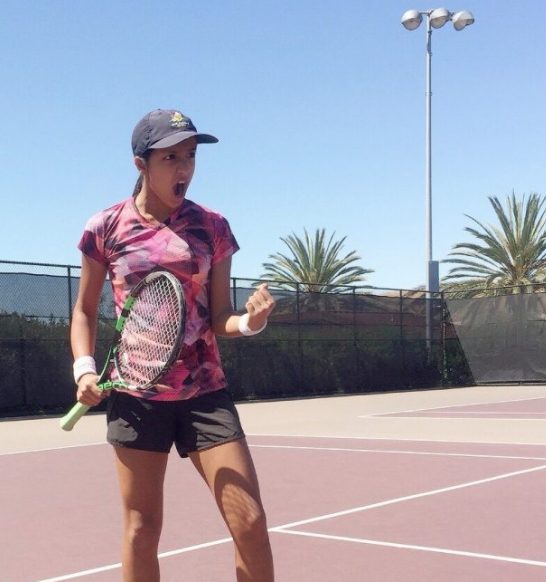 As a wild 2020 wrapped up, Novak Djokovic cemented his place as the world's best tennis player. 
He's been up there for a cumulative 293 weeks of dominance over men's tennis, winning 17 Grand Titles in the process. The Serbian tennis player's struggles with growing up in the failed state of Yugoslavia tell a tale of hard work and dedication, inspiring tennis players around the world.
Dougherty Valley High School's Sana Shehabi, a senior, is among those who revere him.
A collection of Djokovic posters and other trinkets inspire her everyday to emulate her idol. "The chances of him [Djokovic] becoming a professional were very low. … He had enough determination to actually achieve his dreams and I find that very motivating," Shehabi said. 
"Just his whole attitude and dedication towards life and the sport, I feel like is just a very good example for young athletes." she said. She believes that this dedication, along with other traits is the perfect blend for success for any athlete, especially in tennis. 
Shehabi describes these values in her memoir, My Journey in Tennis: How I Learned To Excel (And You Can Too), a 72-page description of her tennis life at a young age. In this book Shehabi describes what it takes to be a top athlete and tennis player. Shehabi details topics such as key success factors to the technical aspects of tennis. Written at the age of 13, the book reflects a clear vision of how she perceives herself as not only a tennis player, but as a student and person as well.
However, balancing tennis and being a student at Dougherty is not easy. Shehabi explains that keeping the same level of motivation every day is the key to success when balancing the task of being a Dougherty student and a competitive tennis player. 
"That was actually my biggest challenge entering high school. … I did have to compromise, since I wanted to prioritize academics," she said. "Time management was something I had to learn. I would finish up my work as soon as possible, and then go on the court and then play until late at night." 
Over the years, such challenges have provided her with impactful moments. She recollects one game that affected her most as a player:
"In 2016 my team and I were at the state championships, and we were in the finals match. The score was tied between the teams and my coach chose me to play the last set. I ended up winning the match." Shehabi said. "That entire tournament just really showed me a lot about staying motivated and finishing through, because there were so many times that our team was so close to losing, but we had to stay in it. If we gave less effort than we did, we would not have won the championship."
Shehabi declares this moment as the point when she realized that if enough effort was put into the sport, good things would come. This mantra and work ethic was first taught to her by her childhood coach.
"My first tennis coach really drove a lot of passion [for tennis] into me. Honestly, I don't really know if I would've continued the sport without her. She just made tennis fun while teaching me a lot of life lessons."
Unlike many teenagers, Shehabi has a clear understanding of what she plans to do in her future.
Asked if she was planning on playing Division I tennis, she said, "Once I started researching that entire pathway, I realized that wasn't for me, especially since I want to do medicine in the future." Despite this she plans on still playing the sport, albeit at a club level. 
She's hopeful that tennis will remain an integral part of her life, even though she won't be playing for the college varsity team,
"It honestly depends on what you make of it," she said. "I'll still be working every day to get better."
Leave a Comment