Junior commits to Princeton for baseball
Hard work leads to Division I opportunity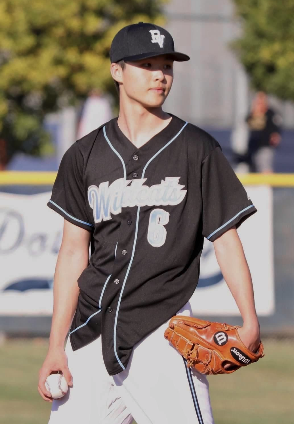 Dougherty Valley High School junior Ethan Hsu has committed early to play baseball at Princeton University in fall 2022 for his outstanding performance as a pitcher.
Born in Taiwan, Hsu began playing baseball at the age of 4 after he and his dad tried sports ranging from basketball to fencing. However, he decided to stick to the one that he enjoyed the most, baseball. After shifting back and forth from Taiwan to the United States, baseball became one of his main pastimes.
"From a young age, I was just a lot better at baseball, and I just stuck with it," he recalled.
He initially didn't start as a pitcher, often playing as an outfielder. However, he soon settled on the pitching position due to its unique role in the game.
"I think it's the most fun," he explained. "You get to control the game and you're always moving. You're in every single play because the game doesn't start until you throw the ball."
 Having control of the game requires Hsu to be able to keep his cool before, during, and after games, staying level-headed in order to ensure that he makes the best choice for his team.
"He's pretty even-keel throughout the game," Dougherty High baseball coach Brian Nichols explained. "I never see him get too high, never see him get too low as far as his attitude goes, and that is the perfect mentality for baseball. As an intelligent young man, I'm sure he's thinking about what situation and what pitch is best for him next. I know he examines the game thoroughly when he's on the mound."
A hard worker, Hsu has pushed his way forward all the way up until his recent commitment to Princeton. Hsu credits Nichols for being influential in improving his performance and confidence on the field.
"When I was a freshman, I was very fortunate that he gave me a lot of opportunities to improve and he really kept it honest with me. … He really helps me improve and develop as a player," Hsu said. "He helped me become more confident in my pitches and be a better player in general."
Hsu's teammates commended his hard work and dedication, being inspired to improve as well based on his performance and intense training.
"I think he's one of the hardest workers in EBAL," Dougherty junior and teammate Dylan Fanelli said. "He never goes to any parties, never does any social events; it's usually just him just posting on his Snapchat stories of him working hard and always just putting his head down and grinding."
Hsu's hard work has paid off. However, his journey to Division 1 baseball at Princeton was far from smooth due to the pandemic.
"A big, big part that the pandemic affected was recruiting for colleges," he said. "As soon as the pandemic hit, you [couldn't] fly to colleges anymore. … What I had to do to [get] to Arizona, I had to drive for 10 hours to get there. The pandemic really messed up my recruiting, because [my dad and I] were kind of scared I wasn't going to get recruited. … It's harder to get exposure and coaches can't really see you in person, so they all have to rely on videos."
Despite this, Hsu received offers from multiple colleges all over the nation for his pitching skills. With a top fastball speed of 85 mph, compared to the MLB average of 92.3 mph, several coaches recognized his efforts. Although his commitment was made through athletics, he took other areas into consideration as he made his decision.
"I took into account [that] I wanted to play Division 1 baseball because it's the most competitive … but I also took into account how good the school was," he said. "I don't want to rely on baseball forever, because there might be one point where, like, what if I don't make it to the next level? I just think that going to a school like Princeton would give me the best opportunities for life after baseball."
Although Hsu has already made decisions about his future that other juniors have not even had the chance to make, he is flexible with his goals from here on out.
"I would probably just try as hard as I can, train as hard as I can for baseball, and just ride however far it'll take me. … Honestly, for life, l haven't thought too far, I just want to be happy and healthy. I'll be pretty good with that."
Nichols is confident that Hsu will succeed no matter what path he chooses in life, which he attributes to Hsu's tenacity. 
"His best [quality] is his determination to succeed in school and his determination to succeed in baseball," Nichols said. "I'm sure whatever job he has or whatever degree he goes into, he'll be just as determined to do these things. That's something that's difficult for a coach to teach a kid. You either have a fire within or you don't, and he definitely has a fire within."
Leave a Comment