San Ramon schools open hybrid schedule
Option allows two days on campus, rest at home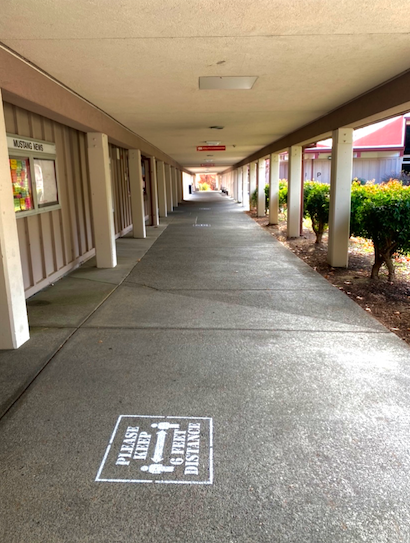 This year has come with many hardships, the most extreme being COVID-19 shutting down schools. Now students and teachers face new challenges with the planned re-opening of Monte Vista High School's spring semester.
Starting on Jan. 5, 2021, schools across the San Ramon Valley Unified School District (SRVUSD) will open again for those who would like to be back on campus. It isn't possible to go back on campus full-time because of the continued spikes in cases. In response to this, SRVUSD has created a "hybrid" learning plan in hopes of accommodating ongoing developments in the COVID-19 pandemic.
In this hybrid plan, students will be fully remote on Monday, then physically on campus either on Tuesday and Wednesday or Thursday and Friday. The other two days, on which students won't be attending classes online or in-person, will consist of asynchronous learning. This means that students will be assigned work even though they have no teacher instruction that day. 
However, for many students, the hybrid schedule is less than ideal; thus, students have the choice of remaining fully remote as well.
Students declared their decisions during the week of Nov. 9-13 with the majority opting to stay home. According to a Nov. 20 email sent by principal Dr. Kevin Ahern, 29 percent of Monte Vista's 2,428 student body chose the hybrid option.
Many are concerned about going back because they are worried about spreading COVID and causing family members to get sick. 
"Students' and teachers' safety is a huge worry for me," sophomore Cameron Palmer said.
While vaccines were announced in December, they won't become available to everyone right away, meaning that there won't be a quick solution to any major increase of COVID cases that could ensue following Monte Vista's reopening. 
"It's not very promising to go back to school before the vaccine comes out," senior Steven Shen said. "We don't know what is going to happen. If there is just one case in the entire school, we are all done."
Another concern is the students' education. Parents and teachers are worried that students will not focus on their schoolwork on the two independent study days.
"I am staying remote because I feel like I have a whole routine down and I have gotten used to online learning, and going back would be too big of a change for me," freshman Alexandra Ezeir said.
Some students say they accomplish more remotely without the in-class distractions. Others say they learn better when a teacher can physically be there to teach them rather than through a computer screen. 
And then some made their decision for non-education reasons. "I chose to do hybrid because all of my friends are doing it and I don't want to be alone," freshman Blythe Byrkit said.
Extracurricular or social activities can also sway one's decision as well. Participating in sports is specifically one of the major factors for some students.
"If we were having a football season I would probably choose to do hybrid since my schedule would change and I would already be in the area," Palmer said. 
Another issue affecting decisions is the morning commute. Some students have to drive for 45 minutes just to arrive at school. For those who can't drive yet, they were dependent upon their parents, and that may not be the case any longer because of the pandemic.
"The distance and time it takes for me to get to school makes a big difference in how early I have to wake up," Palmer said. "With remote learning I don't have to worry about that."
Many students are also choosing to do hybrid in search of the high school experience they have long waited for. But Algebra and geometry teacher Keith Philapil said this will end up disappointing many freshmen because they won't be receiving that experience. Being on campus will be very different, he noted.
"You're going to have to wear masks; you will have to social distance; there are one-way hallways," he said. "There won't be football games that bring people together and there won't be after school clubs."
Philapil is critical of the hybrid approach. "There's barely going to be anyone in the classes in person," he said. "If only a quarter are going back, why have classes everyday?
This article was written originally for The Stampede, the student newspaper of Monte Vista High School in Danville.
Leave a Comment