No high school sports until at least January
Sports schedule remains undefined amid virus surge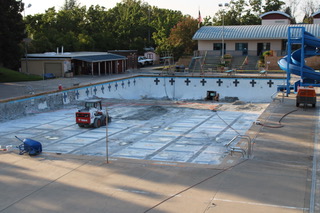 With the coronavirus still raging across America, many high school classrooms remain empty.
Fields and gyms are no different, as the fall sports season at Cal High and schools throughout the state have been postponed to at least January.
After spending several weeks this summer exploring various options while trying to figure out how to play high school sports during the ever changing coronavirus pandemic, the California Interscholastic Federation announced on July 20 that it would postpone the fall season, said Pat Cruickshank, the commissioner for the North Coast Section, which includes the East Bay Athletic League.
The latest update leaves the start undefined.
As a result of the decision, football, cheer/song, cross country, water polo, and volleyball was moved to the winter season and would be allowed to host their first practices on Dec. 14. That is now undecded. Women's golf, which is generally a fall sport, has been moved to the spring with men's golf and will begin on March 15.
"We developed a two-season sport model that pushes back the traditional winter seasons with the spring season," Cruickshank said.
Athletes and coaches expressed disappointment with the decision, although many felt that a postponement of the fall season was inevitable.
"I was hopeful that we were going to have a normal fall season," said Danny Calcagno, who is entering his first season as head coach for Cal's football team. "But as the summer went on, I became less hopeful. I'm just happy that we still get a season though."
That's not true for all teams. Cal's marching band program, which includes marching band and color guard, had its fall season cancelled outright, and will not participate in the new winter season with most other fall sports.
"I was pretty disappointed, knowing it was going to be my last season," said senior Nicole Cavanagh, who was a captain for Cal's color guard team last year.. "But I knew it was the best thing to do given the circumstances."
Since marching band and color guard require team members to be in such close proximity to each other, there was no logical way to make those seasons work, leading to their cancellation.
"[There's tight formations, drills and rehearsals, not to mention the competitions themselves" said senior Karthak Prasaad, who has been part of Cal's marching band for three years. "They're basically large social gatherings, right? I'm honestly not sure how you would be able to participate in the middle of a pandemic."
The first football games were scheduled to begin on Jan. 8, 2021, while the regional/state championships are scheduled to end by April 17. The championship dates for all winter sports are scheduled between March 20 and April 17. The spring sports season now includes all other sports and teams will be allowed to begin practice between Feb. 22 and March 15, depending on the sport.
"We have five months to get ready for the season, so hopefully we'll be able to find out soon if we will be able to have conditioning camp soon, like we would have done in August" Calcagno said.
While formal, full-team practices can't begin, the San Ramon Valley Unified School district approved earlier this month Small Group Activities (SGAs)  that allow a maximum of 12 players to work with one coach for up to four weeks. The SGAs format and rules allow for these units to work exclusively together and not intermingle with any players or coaches from other groups during that time.
Before SGAs were approved, teams were not allowed to get together in person but were able to have their players practice individually through Zoom.
"We have been meeting every week over Zoom and working on technique," Cavanagh said. "I think it's the safest option and it gives everyone something to do over the quarantine."
With so much uncertainty surrounding COVID-19 and what the number will look like come December, much is still left up in the air about how the sports will be played when they do return. But Calcagno feels confident that the games should be the same as before.
"I think that all the rules and how the games are played will be the same," Calcagno said. "I think all of the changes will be outside the playing field, like with fans or no fans, that sort of thing."
If there is a safe vaccine available by football season, Calcagno will not make getting one mandatory to play on the team.
"Whether or not to get a vaccine is a choice for parents to make with their children, not me" Calcagno said.
With two sports seasons meshed together, it's not clear how the school will manage on-campus facilities since three seasons will be merged into two.
Some students are having to decide between sports. In normal years, students could do a winter and spring sport, but with both seasons blended, students have been forced to choose.
"The only thing I'm considering is if I'm going to try out for basketball or track since they start at the same time this year," senior Alex Yushencko said. "I'm not really sure which one yet."
Ernie Berger Stadium will now have to be shared by six teams – football, men's and women's soccer, men's and women's lacrosse, and track and field – during two seasons instead of three. The biggest challenge will come in February and March, when football will be wrapping up its season while both soccer and lacrosse teams and the huge track team will be beginning their seasons.
"At first I thought everything would be like last season, but then I realized we have to share the entire field with every sport and I think that's too much," said senior Anthony Jankovic, who has competed in the shotput and discus events for the track and field team the past three years.
Cal's Event Center and older gymnasium are typically shared by the men's and women's basketball teams during the winter season. This year, both volleyball teams will use these facilities for the winter season before basketball begins in the spring.
"It creates some challenges for our schools but does allow an opportunity for our students to have a full season of their sport," Cruickshank said.
While the  coronavirus pandemic has disrupted all levels of sports worldwide over the past six months, many remain hopeful and are excited for high school sports to be returning, whenever that may be."[I'm] very hopeful," Cruickshank said. "Hope is what we have to grasp onto right now."
Leave a Comment