Each class has own bone to pick with pandemic
Grade level changes perspective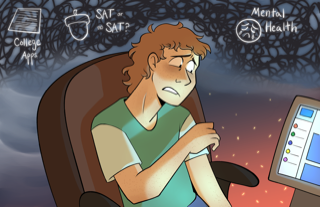 The new high school experience for freshmen is anti-climatic: Teachers constantly reminded students they were being prepared for this huge transition in their lives. 
There were planned celebrations such as a trip to Six Flags Discovery Kingdom, an eighth-grade farewell dance, and promotion to send the excited rising freshmen off to the next stage in their lives.
But then eighth grade was cut short in mid-March. The celebrations were canceled. The anticipated high school experience students were promised for years was thrown into chaos thanks to the coronavirus pandemic.
Freshman class president Mostafa Khan said he was excited to reunite with some middle school friends who are now sophomores and was disappointed when it didn't happen.
"I was looking forward to seeing some of my 10th-grade friends and having the full high school experience, like going to homecoming and high school events," Khan said.
The first year of high school is filled with so many firsts and experiences such as receiving a locker, using a cell phone during the school day, and just being allowed to walk across the grass on campus without getting screamed at. 
Unfortunately, the moments that so many were looking forward to failed to make an appearance in online school.
Freshman Nadia Rouillard is one of many students who finds online school a disappointment.
"I am not good at online school," Rouillard said. "I can never pay attention so I need someone to tell me to pay attention."
Rouillard would much rather be in a classroom environment. She finds herself getting distracted and off course. She believes that online school is the correct fix for this situation, but misses the classroom.
Freshman Jessica Okorie disagrees with Rouillard, finding online learning to be easier than regular school, but is worried about the future of high school.
"I am going to take most of my freshman year online, and by the time I even go to school maybe [it will be] sophomore year," Okorie said. "I'm not going to be used to the classes. I'm going to be a freshman twice."
Khan said he is eager to get back in the classroom. Similar to Rouillard and Okorie, Khan wants to meet new people and be social.
"It's really different from what we were used to… being able to socialize with our friends and now we have to communicate through a computer," Khan said.
English teacher Devan Manning spoke about her views on ninth-grade students and their high school experience.
"I am kind of mourning for our ninth-grade classes," Manning said. "The distance of community and belonging to the school is just harder to achieve when we're virtual."
Manning wants students to know that people at Cal are on their side."My best advice is to try and take care of yourself," Manning said. "What I would hope freshmen would do is really be aware of their own mental health and kind of prioritizing that a little bit more than maybe their school performance."
Rouillard feels that the teachers at Cal have been very cooperative and understanding of students' difficult and abnormal situations.
"They treat you like a person instead of a little kid and I think that is the best thing a teacher can do for students," Rouillard said.
It isn't easy for the Class of 2023:
The modern Cal High students' morning routine goes a little something like this: waking up to light filtering in through the window, brushing their teeth, rushing to grab something for breakfast, picking up their backpacks, and… dropping them right back on the floor.
Welcome to 2020.
Freshmen are tasked with the navigation of a completely new school in an online setting, while juniors deal with SATs and heavy course loads. Seniors are plagued with college applications in the midst of a shutdown.
Compared to these challenges, it seems as though the Class of 2023 – the "bratty middle child" of Cal High – has it pretty easy.
"It's the first year that we have a choice in our classes and career paths," sophomore Kanav Bansal said. "It's a huge step just taken away."
Despite the outward appearance of worry-free relaxation, sophomores face their own set of hurdles outside their two-inch square on a Zoom call. Both students and teachers struggle to build a fulfilling experience that will set sophomores up for success in their high school careers.
Bansal, a dedicated tennis player, feels that online schooling has hindered his academic and athletic success. In his freshman year, Bansal made Cal's JV tennis team and hoped to make varsity this year after training rigorously during the summer.
"It's frustrating to work out and maintain fitness only to have it not mean anything," Bansal said.
Bansal explained that attending school online makes it difficult for him to absorb the content thrown at him. A hands-on learner, he feels that distractions from his phone and his surroundings interfere with his school work.
Sophomore Sarah Houston, who is enrolled in Cal's theater and fashion design programs, said the shutdown has impeded her ability to pursue what she loves, from her own theater experience at Cal to her contributions outside of school. Both an enthusiastic theater student and a passionate volunteer at Iron Horse Middle School's theater program, she feels restricted stuck at home.
"It drives me insane that I can't go back to Iron Horse to help out with their production," Houston said.
AP European History teacher Ryan Cook expressed his concerns regarding students' issues with online learning inspiring poor work habits for students who already struggle with organizational skills.
AP European History, which is notorious for its difficulty and immense workload, is the first AP class that many sophomores take. Unfortunately, remote learning has led teachers to cut back on the number of tests, making grades much more volatile and possibly affecting students' success on the AP test in May.
"The unique thing for sophomores is that this is their first time taking APs, and they are asked to do a lot of things on their own," Cook said. "It's even more difficult to know what to cover."
Many students have also expressed their rising concern with their AP classes.
"[AP Euro] is a really rigorous course, and there's a lot of reading and work that goes into it," sophomore Kavya Tharshanan said.
Like her peers, Tharshanan often struggles to keep up with the added pressure of an AP class in remote learning.
Not only is it difficult for students to manage the material, but teachers are also struggling with planning classes and teaching material. Cook said that even the simplest activities such as group projects and publishing assignments take time to put together.
Students are worried that their first year of academic autonomy might not be as successful as they hoped.
But sophomore Tyler Duong is more optimistic. "We all have our own struggles," Duong said. "We are trying to get used to all these new technologies, and have to readjust all over again."
When junior Sishir Katta sat down to choose his classes last year, he was as oblivious to the effects of the coronavirus pandemic as anyone.
He knew junior year was the time to go all out, so he chose all five of his classes to be APs. Six months later, the ramifications of that choice are ones that nearly every junior can relate to.
Many would argue that junior year is the most important academic year of one's pre-college career. Most students take their hardest classes and SATs, so getting and staying motivated is very important.
But procrastination is so much easier than being motivated, and online school only compounds that.
"For me personally, [online school] has been kind of challenging because the chances for procrastination are much greater," junior Katrina O'Dell said.
Like many other juniors, O'Dell finds herself with more AP's on her schedule than ever before.
With the pressure of taking more weighted classes during junior year also comes the significant increase in the overall amount of schoolwork.
"We've been getting more work this year with online school than last year for some reason," junior Kiera Chapman said. "It just feels like there's more that they're giving us in a shorter amount of time."
A common sentiment among juniors is that it's difficult to learn online from someone whose technology capabilities are shaky at best.
"I would say the teaching quality was much better in person than it is online," said Katta, who also believes that in-person teaching was more intuitive.  "Before, you had a much more hands-on experience."
Being in the classroom doesn't only make learning easier, but also gives students a chance to bond with teachers who they could prospectively ask letters of recommendation from to prepare for college applications senior year.
"One of my favorite parts of teaching is just developing a rapport with my classes," AP United States History teacher Scott Hodges said. "It's been more challenging to engage [this year]."
Another staple of junior year is standardized testing. O'Dell was planning on taking the SAT, but was unable to get an appointment before shelter in place started. Those who had appointments to take the SAT before COVID-19 had their tests cancelled, and have struggled signing up for tests remotely close to home.
"I was going to take it in December of this year," Chapman said. "I'm thinking about putting it off until next year; especially since with COVID. Everyone's [test] is getting cancelled."
Arguably the worst part of it all is that juniors may not even get to partake in one of the most important events in high school – prom. To many students, unlike other high school dances, prom actually matters. It's a night they will remember forever. That is, if they end up being able to attend.
Other opportunities for extracurriculars have been lost as well. Like many other juniors, O'Dell and Chapman were both supposed to get their driver's licenses, and O'Dell was set to get her first job earlier this year.
Junior year is also an important year for sports, as for many people it is their first voyage into the world of varsity athletics. Some fall and winter athletes are being forced into tough decisions, since those seasons are being pushed to the spring. O'Dell, one of these athletes, was unable to play on the golf team this fall, and Chapman has had all four of the sports she plays affected.
Chapman was on the varsity swimming and girls wrestling team last year, cheered for Cal, and played rugby for the Danville Oaks.
"Sports were a big coping mechanism for me with stress," Chapman said. "Now that I don't have it, it's more stressful."
Both the swimming and wrestling seasons are scheduled during spring this year. This means that Chapman is going to have to face the dreaded decision of picking between two sports that would not normally be in the same season.
"I'm conflicted, because I really enjoy both," Chapman said. "They're both physically exhausting, but wrestling has a mental aspect to it too."
It's hard to prepare for something that might not even happen; unfortunately, Chapman is probably going to have to do just that. This will be her first year trying out for the varsity cheer team, and with the football season postponed to December, there is a chance that there will be nothing to cheer for.
Junior year is always a tough one, and online school only makes it tougher.
"Having a sense of normality stripped away from us –  it just puts a damper on how we live our lives right now," O'Dell said.
Seniors are facing their final year of high school in quarantine:
COVID-19 has turned this final year for the Class of 2021  upside down, and everyone is responding to the change in different ways.
"I just really miss going back to in-person learning where you can engage with your peers and communicate with your teachers," senior class president Amanda Le said.
Some students have also struggled to feel engaged.
"I feel like during online classes, it's very easy to get distracted or simply not go," senior Kelly Kyutoku said.
Many students who previously felt confident in their college plans are now considering other options, such as community college.
"Why pay all that tuition if I'm not even going to board there next year?" senior Shinika Balasundar said.
The summer between junior and senior year is a popular time to visit colleges and plan for the future. Quarantine made that all but impossible. While many students have looked at colleges online and participated in virtual tours, many still feel that they are going into the process blind.
Some seniors have felt that because of online schooling, they have yet to receive adequate instruction about how to move forward with their applications. College applications area challenge, and the lack of in-person support only contributes to this challenge.
"I haven't been able to get in touch with my counselors for college applications," senior Rose Shah said.
Cal's counselors have provided several resources such as the "Your 2021 Senior Survival Guide" on Cal's counseling website under the college planning tab. Counselors are also offering live one-on-one meetings on Google Meet in order to aid graduating seniors in the college application process. Counselors also sent an email to students this week that includes a five-minute tutorial explaining how to  complete the UC application.
COVID-19 has also affected seniors outside of school. Many club leaders are struggling to adapt their activities to an online setting. Several other extracurricular activities, such as sports, have been postponed until at least December, leaving many senior student-athletes frustrated that their opportunity to participate in varsity sports one final time could be jeopardized.
"It's going to be hard on our current 2021 class who are facing not getting an actual season," senior softball player Riley Stiner said.
Student-athletes were recently allowed to begin participating in small "camps" of no more than 12 students working with one coach. All fall sports were postponed and are now part of the winter or spring sports seasons.
Jobs have also been affected, and many seniors have been forced to make the choice between continuing to work and staying home. Some jobs and internships have managed to make the switch to an online format, allowing students to continue to work from their own homes.
With the future of the school year still in question, many seniors have been left wondering what will happen to many traditional activities, such Senior Ball and graduation. Many seniors feel particularly worried about in-person graduation ceremonies being cancelled for the second straight year. The Class of 2020 was the first to experience a virtual graduation.
"I hope we get to be in person for some extent and have graduation in person," said principal Megan Keefer. "I don't have a crystal ball. I honestly have no idea."
Leave a Comment