Watching global pandemic unravel through your phone
How quarantine is impacting mental health of Richmond High students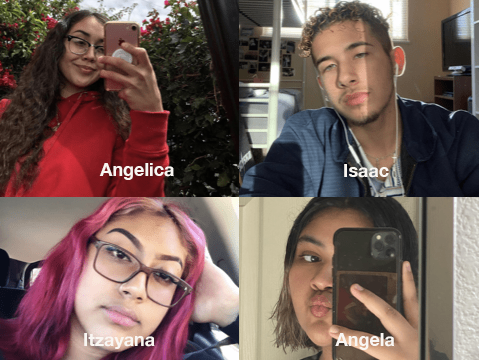 The students of Richmond High are watching a global pandemic unravel through their phones. It is displayed all over social media where everyone is kept up to date with the virus. To some students, it often feels like they're watching a horror movie.
"I am constantly watching the news on Instagram and all I see is news about the pandemic. It doesn't feel real, it feels like I am in a scary movie and it just makes me anxious," said Jordan Turner, a rising senior.
As the pandemic progresses, Richmond High students lose structure in their day to day lives as school is now online. School was not only their source of learning, but it was their source of extracurricular activities. Not being able to participate in sports or clubs, due to the pandemic, can create a bigger downside to a student's mental health.
"Before the pandemic, I was always energetic and surrounded by my everyday activities such as school, softball, and marching band. I was always busy, but when the pandemic came, I felt a change as I was no longer doing these things. I lost motivation, " said Angelica Flores, an upcoming junior at Richmond High.
Students have so much energy but nothing to do with it since social and physical gatherings now are not an option. "I'm constantly trying to find something to do, but there is nothing to do. It's to the point where I am alone with my thoughts and it's causing me to be sadder than ever," said another junior, Isaac Lanton.
Richmond High students know that they have to social distance and avoid big crowds for their health and safety, but the downside is that in many cases, it's at the expense of their mental health. It builds negative emotions as students begin to feel imprisoned.
"I found myself distancing myself from family and friends as I couldn't wrap my head around the fact that I was trapped in my home for days on end," explained Evany Cruz, 15, a rising junior. Much like Isaac Lanton, Evany adds that she also began to overthink. "It's just those crazy moments where I can't leave my own bed. I felt horrible as I began to question my own worth, but I created distractions that allowed me to improve my mental health a bit."
Living in a pandemic at a young age terrifies us teenagers as our opportunities were already limited. Now that they no longer are available we're feeling worse. "I was already going through a tough time before the pandemic, but I was beginning to get over it since I was surrounded by my friends at school. They helped me with school and personal problems by making me laugh. Now that they can't be around because of coronavirus, my sadness got worse," said Itzayana Carlon, another junior.
Of the ten students interviewed, seven said that their mental health has deteriorated during the pandemic. Although, this does not apply to all students at Richmond High. Some students came to the realization that they have the time to fix themselves.
"Not being in school did shoot down opportunities I had, which bummed me out for a while. Although, I took this time to get better mentally. I was in a bad place before the pandemic so I decided to do the opposite with this time. I got off social media and became more honest with myself. I did things I wanted to do, such as meditation," said Angela Vargas, an upcoming junior. She is not the only junior who is using this time to do the things she enjoys.
"I get to play more video games because that's what I like to do. It's more fun now too, since my friends aren't busy, allowing us to play together online. Being able to do something I couldn't because of homework just makes my day better," said Amal Chand.
"I've always been a 'Yeah, no school' person because every time I am out of school, my mental health improves," said Rosa Flores, a rising senior. "Being in this pandemic left me stuck at home, but that's okay. I feel happier as I can be myself without trying to fit into society's molds," she said.
The mental effects the pandemic has on Richmond High students does not go unnoticed by Richmond High staff. The staff has been communicating with students to try to address some of their problems. John Hillyer, a vice-principal at Richmond High, has been keeping close contact through email with students by informing them of resources that would benefit them. The school has also added "Wellness Fridays" to the upcoming school year which encourages students to invest their time in extracurriculars — at home. This was added to help relieve the stress of Richmond High students.
Extraordinary measures are being taken by Richmond High students and their families to avoid getting the coronavirus, but those same measures are taking a toll on the mental health of many of those same students.
See original post in "Local News Matters."
---
Mental Health Resources for Students During COVID-19
If you are struggling with mental health issues, speak to a parent or another trusted adult who could help you. Or try these online sites:
Walk Along: A website meant to introduce you to different things that can improve your mental state or help you get through the day.
OK2TALK: A website meant to give teens and young adults a safe space to talk about their mental healththrough writing, photos, songs, and more.
What's Up?: An app that helps you cope with mental illness through games, forums, and it can also give helpful techniques that can manage your moods.
Crisis Text Line OR text 'START' to 741-741
National Suicide Prevention Lifeline – 1-800-273-8255
Leave a Comment